Earlier this week, Statistics Canada released the results from the latest Industrial Water Survey (2015), which shows an overall decrease of water use nationally. The three main industry groups covered by the survey had a total water intake of 27.5 billion cubic metres in 2015, down seven per cent from 2013.
The report shows that thermoelectric power accounted for 65 per cent of all water use in Canada. Thermoelectric power generation includes generation, transmission and distribution of coal, petroleum, nuclear, geothermal, solar thermal electric, and waste incineration plants; as well, as many natural gas power stations are thermal.
The vast majority of thermal-electric power water intake was discharged back into the environment (85 per cent).
Manufacturing was the second-largest industrial water users (10 per cent) followed by agriculture (7 per cent).
The greatest increase in water use from 2013 to 2015 occurred in agriculture, forestry, fishing, and hunting industries, up 31.4 per cent to over 2.6 billion cubic metres.
In 2016, Statistics Canada reported that agriculture irrigation volumes followed the precipitation patterns throughout Canada's growing season, so seemingly, hotter and dryer summers are driving the increase in water use. However, the increase could also be attributed to conversion to cash crops and conversation of dryland practices to irrigated lands.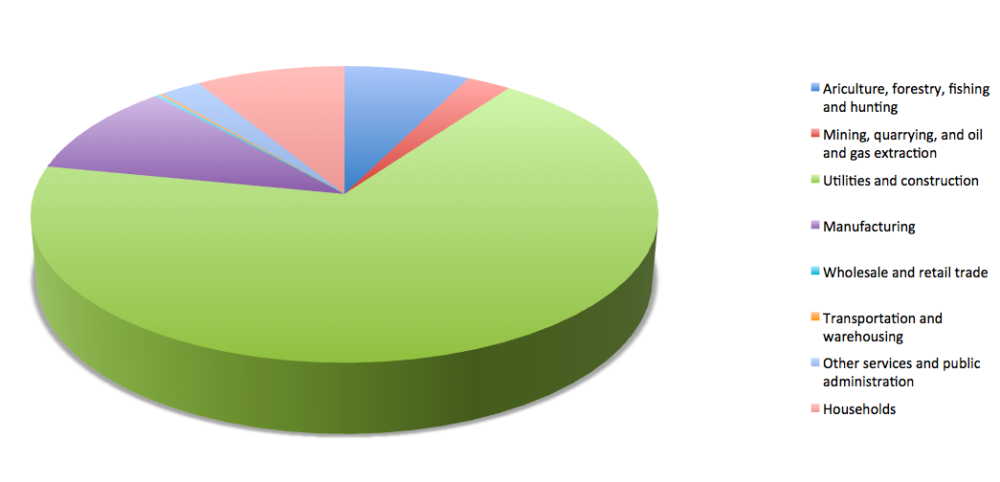 Thermoelecric, manufacturing, and agriculture had water costs totalling just over $1.8 billion.
Statistics Canada also released its report on the Physical Flow Account for Water, part of Canada's efforts to implement the United Nations System of Environmental-Economic Accounts (SEEA). The Physical Flow Accounts report noted that industrial water intensity (a measure of water use per unit of GDP) has decreased.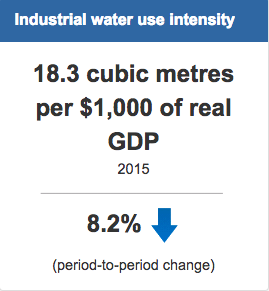 Canadian households' water use increased slightly, with their share of total use up from 8.4 per cent in 2013 to 8.8 per cent in 2015.
The Statistics Canada report Canadian System of Environmental-Economic Accounts – Physical Flow Accounts and the Industrial Water Survey, 2015 are available online.