In its April Snow Survey and Water Supply Bulletin, British Columbia's River Forecast Centre (RFC) has declared that the amount of snow pack indicates an increased seasonal risk of flooding in the South Interior and Kootenay. The Fraser River Basin is also at some risk of experiencing flood conditions, despite a closer to average snow pack.
The RFC has also cautioned that weather patterns during melt will also impact the risk of flooding, and as a consequence of this year's La Niña, the risk of flooding in the South Interior and Kootenay is unlikely to abate.
"The Okanagan is at 152 per cent. It's the highest of any basing alongside the Similkameen," said Jonathan Boyd, RFC hydrologist to the Vernon Morning Star. "Snow pack is only one element of flood risk."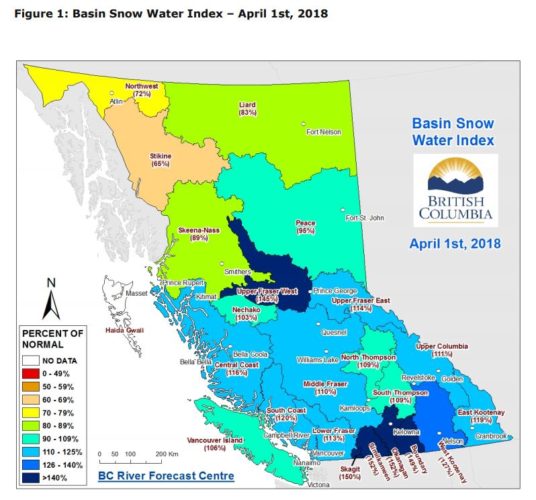 The bulletin has also warned of the fallout on hydrological processes in areas affected by the 2017 wildfire season, many of which already have above average snow pack. "Disturbances such as fire affect the hydrologic response of streams, rivers and lakes relevant to potential flooding," states the report. "Specifically, flows from snowmelt dominated watersheds impacted by fires tend to be greater and peak earlier as compared to undisturbed areas, even under normal weather conditions."
"An extreme snow pack may not result in flooding if the melt is relatively slow and drawn out," Boyd told the Morning Star. "The risk of flooding increases, however whether or not flooding actually occurs depends on melt patterns."
More information about RFC is available on the Government of British Columbia's website. Visit the Vernon Morning Star's website for the original interview with Jonathan Boyd.