The U.S. Ambassador to Canada, Kelly Craft, was in Toronto yesterday for an Empire Club of Canada luncheon speaking about Canada-U.S relations, NAFTA, and our countries' strong cultural, economical ties and similarities. The speech highlighted the success of cooperative Great Lakes management as proof that the current pressures to resolve NAFTA conflicts could be surmounted.
"As you all know well, there has been an extraordinary amount of bilateral effort that has helped our two economies grow in tandem.  There has been cross-border research and development in important sectors such as technology, healthcare, and manufacturing; cross-border production and investment; and, of course trade. Let me talk briefly about those areas, because the free flow of ideas, people, and products leads to strong economies, solid jobs for people with multiple skill sets, and inventive services of the future," said Ambassador Craft.
"People all over the world, even in communist countries such as China, are shouting their demands that their governments must be good stewards of the environment. Natural resources have to be protected and made available for everyone to use.  Often, these issues cross international borders. There is no better example anywhere in the world of two countries working together than on the preservation and supervision of the Great Lakes."
Craft also noted how valuable the Great Lakes are to both countries' economies. She highlighted the recent work of the Toronto U.S. Consulate focused on improving Great Lakes Health.
"As an example of cross-border teamwork to protect our natural resources, our Consulate in Toronto engaged binational experts on the issue of salt contamination in the Great Lakes to share road salt management best practices. In another case, to boost regional economic development, working group members created an application called the Great Lakes Guide to attract people on both sides of the border to spend time and money in the Great Lakes Region. This has helped U.S. and Canadian families enjoy trips to the area, and let small business owners on both sides of the border see their revenue grow."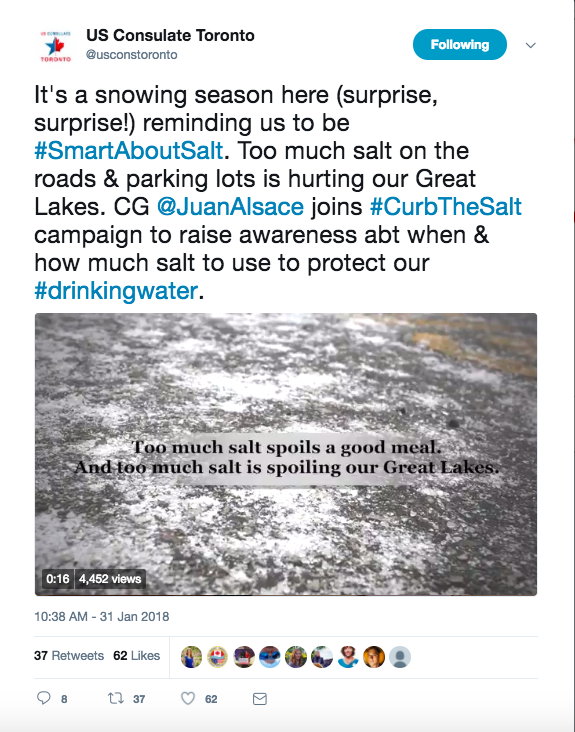 Craft defended President Trump's reasons for re-evaluating that pact a centerpiece of his election campaign based on the need to modernize the treaty and middle-class Americans' unrest with the American economy.
"I have every confidence that together, we will fix NAFTA so that it can work for the next 25 years—fixes that ensure flexibility as our economies evolve and that ensuring prosperity is shared by everyone," she said.
The event was sponsored by the Labourers' International Union of North America and Coca-Cola Canada.