As a pilot project involving University of Guelph researchers monitoring wastewater at Toronto Pearson Airport for coronavirus variants enters its second year, one of its lead researchers says the work has grown more complicated.
Dr. Lawrence Goodridge, a professor in the Ontario Agricultural College, has led U of G's wastewater testing team in the airport project. Along with colleagues at the University of Waterloo and in collaboration with scientists at the Public Health Agency of Canada, he is analyzing wastewater samples from incoming flights and terminal buildings.
The health agency announced earlier this month that it is expanding the testing project at Pearson to separately test wastewater from flights arriving from China and Hong Kong. It has also begun work with partners in British Columbia to test wastewater at Vancouver International Airport.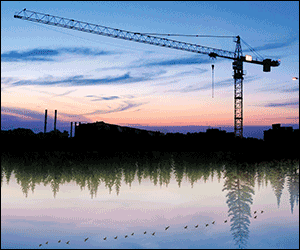 Wastewater has been a key tool in monitoring population-level transmission trends of the SARS Cov2 virus that causes COVID-19 since last winter, when the first wave of Omicron overwhelmed public health laboratories and led to the scaling back of community-wide clinical testing. That left wastewater testing as an important tool to estimate the risk level in a community.
But Goodridge, the Leung Family Professor in Food Safety and director of U of G's Canadian Research Institute for Food Safety, says with so many sublineages of Omicron now entering the country, testing has become much more complex.
More subvariants to come as virus continues to evolve
A year ago, there were only a couple of viral variants to search; now, there are several known subvariants and likely more to come as the virus continues to spread and evolve.
"In recent months, it's become increasingly difficult to detect new variants in wastewater, because at any given time, we are finding evidence of 20 or 25 subvariants," he said.
Goodridge and his team don't test for actual subvariants; rather, they conduct genomic sequencing to look for the unique mutations that define the subvariants.
Up to 50 mutations might be associated with a subvariant, Goodridge said, such as the so-called "Kraken" XBB.1.5, and nearly all of those mutations will overlap with other subvariants. Teasing out specific new variants of concern in what he calls a "soup" of viruses is a challenge.
"If you think about it as a puzzle, it used to be just a 10-piece puzzle. Now, it's 1,000 pieces and most of those pieces look the same, because they are all Omicron," he said. "On top of that, it's been mixed up with 10 other jigsaw puzzles and those pieces also look the same. So, we're looking for these unique pieces and we are running into pieces from other puzzles that aren't important."
Wastewater surveillance remains a key tool
It would be easier to paint an accurate picture of what's circulating in the community if wastewater results could be compared with more clinical test results, Goodridge said, adding that he's always seen wastewater testing as a complementary tool alongside clinical tests.
Along with the ongoing airport testing pilot project, Goodridge continues to monitor wastewater at U of G's campus residence buildings in Guelph and Ridgetown along with colleagues Dr. Ed McBean, School of Engineering, and Dr. Marc Habash, School of Environmental Sciences.
The U of G team was one of the first in Canada to start a campus wastewater surveillance program. Results continue to be posted on a public dashboard displaying the estimated risk level in each residence.
Goodridge and Habash also conduct laboratory analysis of wastewater in Guelph, Orangeville and the Niagara Region as part of Ontario's Wastewater Surveillance Initiative.
U of G is one of 13 universities and research institutions that form the surveillance network, ensuring public health units have access to wastewater data.