The Asia Pacific Foundation of Canada hosted its third annual meeting of the Asia Business Leaders Advisory Council in Toronto, on March 2, 2018. The group discussed ways to strengthen economic connections between Canada and Asia, including opportunities to promote Canada's clean technologies and environmental services.
The meeting was held so that business and government stakeholders could engage in an open dialogue on how Canada can realize the full potential of its economic engagement with Asia and how the federal government can strengthen its Asian Strategy.
"In 1999 when I was working in Shanghai, we had 1.4 per cent of the Chinese import market, and in 2015, after almost 15 years of remarkable [population] growth, we had 1.39 per cent. We haven't really pushed the dial in any way," said Stewart Beck, president and CEO of APF Canada.
"How do we scale it up, particularly at a time when our market share in the United States is dropping and the U.S. market share globally is dropping?  As a country, need to understand this," Beck said.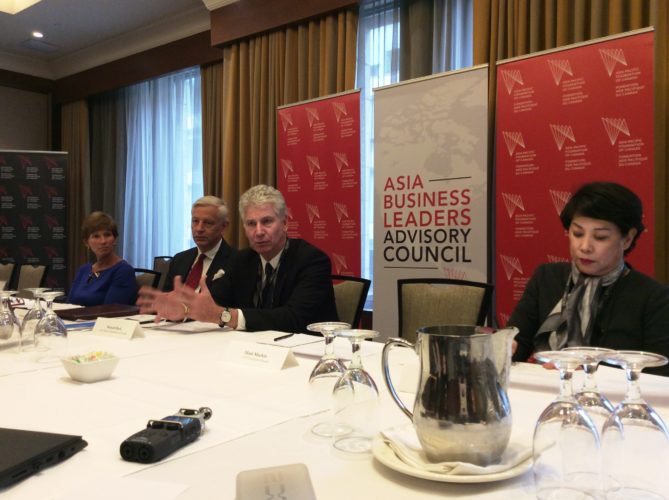 When asked about the potential increase Canada's export of water technologies, Beck said, "Often people don't think we have that kind of expertise here in Canada because we have so much freshwater—why would we need to have that kind of technology? But the reality is, we do. To succeed in a market like India, China, or the big markets in Asia, we need to have the scale to be able to compete. We have the technologies, but we don't necessarily have the companies that have the size to go in there and compete."
Beck said Canada's technology firms require greater access to financial vehicles to support intellectual property to compete globally.
"We need to think about ways to support companies to demonstrate those technologies so that they can get the projects, start building revenues, and then scale up in other places in Asia where similar challenges exist, whether its wastewater management, groundwater pollution, or the use of different irrigation techniques to deal with the issues around agriculture."
Doris Ho, president and CEO, Magsaysay Group of companies from the Philippines added, "Living in Asia, I think the opportunity is for people in Asia to understand what Canada stands for." She said, "The trends are really there: climate change, food and water scarcity. These are really going to become more important, and Canada is really well positioned to be able to offer the technology and commercialize it and to offer solutions."
The Comprehensive and Progressive Trans-Pacific Partnership (CPTPP) is expected to be signed later this month.