More than $2 million is available to watershed conservation projects in the Peace River Basin through the Fish & Wildlife Compensation Program (FWCP) – a partnership between BC Hydro, the Province of B.C., Fisheries and Oceans Canada, Public Stakeholders and First Nations.
One project that has received funding in the past is a three-year mapping exercise led by the Province of B.C., to delineate the location and classification of wetlands and riparian areas in the Williston and Dinosaur Reservoir watersheds—watersheds that have been impacted by existing BC Hydro dams.
More than 7.3 million hectares of land were mapped to determine the distribution, abundance, and connectivity of wetland and riparian areas using a machine-learning algorithm to predict where, and what type of, wetlands and riparian areas are likely to exist in the area. Expert air-photo interpretations were used with a large amount of spatial data to train the program. Data included satellite imagery of vegetation, topography, and historical climatic conditions. A total of 276 field sampling points were established to ground-truth the accuracy of this predictive mapping technique.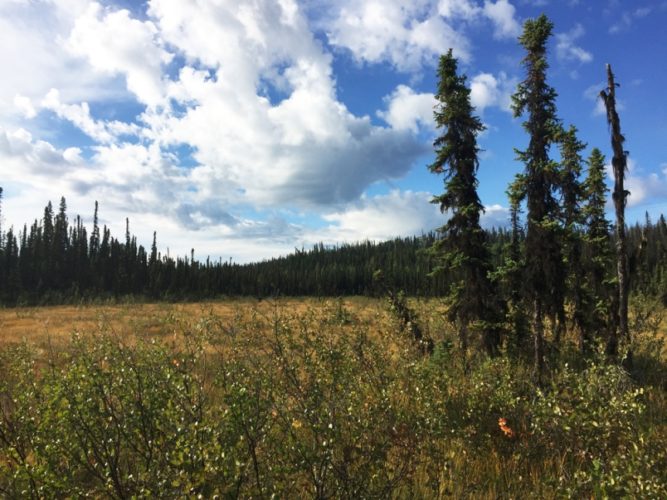 The model results demonstrated 90 per cent accuracy for predicting locations of wetlands, terrestrial areas, and other water features. It will be the first ground-truthed, predictive wetland classification map in the area that predicts different wetland classifications with 54 to 65 per cent accuracy.
The Province of B.C. is currently in the second phase of this project, which aims collect more field data to improve the model accuracy. It will also develop decision support tools for First Nations and stakeholders interested in wetland and riparian conservation.
The FWCP in the Peace Region has a local Board that determines which projects receive funding. It also has a First Nations Working Group, that provides input to the decision-making, that includes representatives of the Doig River, Kwadacha, McLeod Lake, Nak'azdli, Prophet River, Saulteau, the Treaty 8 Tribal Association, Tsay Keh Dene, and West Moberly First Nations.
The annual grant application intake is open, and a mandatory Notice of Intent must be submitted by Friday, September 7, 2018 at 5 p.m. PDT. The full application must be submitted by October 26, 2018 at 5 p.m. PDT. Visit the Fish and Wildlife Compensation Program's website at fwcp.ca/apply-for-funding for more information.
This article was updated for accuracy on August 28th. The points that were updated were:
The mapping project didn't lead to the $2 million being available, the FWFC has that every year  
The First Nations Working Group is not an active part of the project, but they review all project ideas before the full applications are submitted
The Notice of Intent tmust be submitted by Friday September 7, 2018 at 5 p.m