Climate change action and sustainable communities were among the top five priorities identified by Canadians who responded to the nation-wide survey about the UN Sustainable Development Goals. Global Compact Network Canada released the results as part of its third annual survey to better understand the perspectives of Canadians and Canadian organizations with respect to the UN SDGs.
While water and UN SDG #6 which relates to sanitation objectives ranked only sixth overall for both global and Canadian respondents, the authors noted that "climate Action incorporates issues associated with water (SDG14) and land use (SDG15) as well."
The results also show that the global movement to support of women's rights and empowerment have had an influence on the prioritization and engagement with the SDGs. This finding would suggest that Canada's recent stance on global advocacy for gender equality across many platforms, including in international trade agreements (e.g. NAFTA) and the Feminist Development Assistance Program. But mainly, the results show that SDG13 for Climate Action remains as one of the highest priorities for Canadians and that Canadians firmly believe climate change represents the biggest challenge and that the biggest opportunity for making significant progress toward a sustainable world.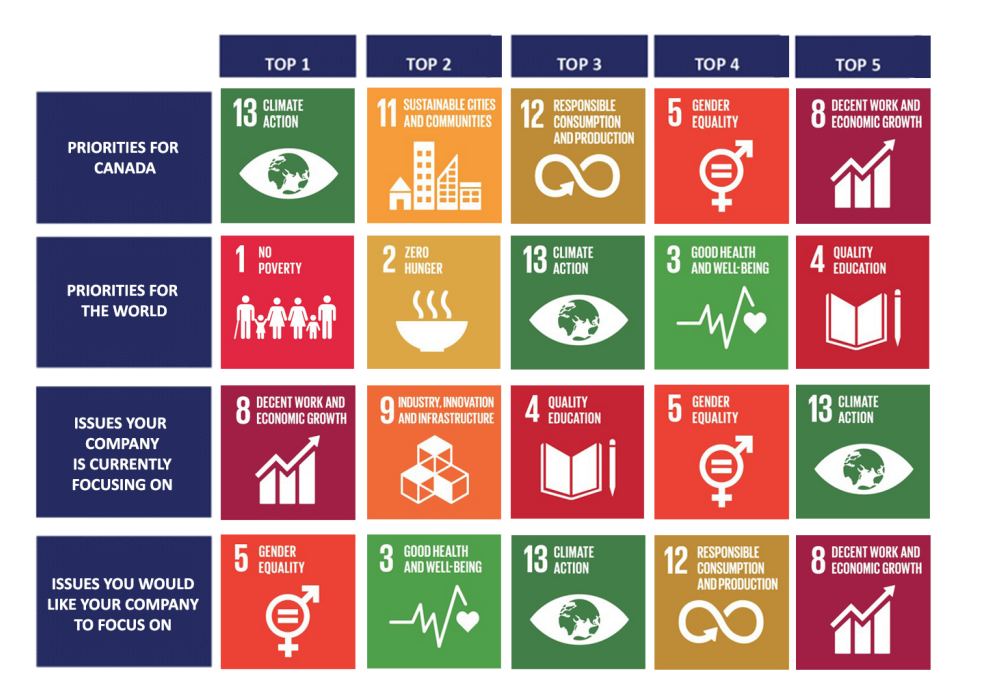 In April, Canada's Commissioner of the Environment and Sustainable Development, Julie Gelfand, tabled a report that concluded that the federal government must establish an implementation and benchmarking plan if it is serious about meeting commitments to the 2030 Agenda and the UN Sustainable Development Goals (SDGs).
A total of 426 Canadians responded to the Global Compact survey, 11 per cent of which were Global Compact Network Canada signatories or participants.
Global Compact Network Canada's third annual SDG survey is available online.