Ask your average Canadian about the notion of water risk and they're likely to say, "not here in Canada!" Yet water risk is a multifaceted issue, not restricted to one issue, one place, or one time. Consider the Calgary flood of June 2013, which was the costliest natural disaster in Canadian history at over $6 billion, or the Kelowna double whammy in 2017 when some of its worst floods were followed immediately afterward by a record-setting drought. Contrary to popular belief, we are a country of numerous water risks—too much, too little, or poor water quality.
Water risk is defined as the combination of likelihood and severity of water-related impacts and often stems from extreme weather events. But water risk is not only physical, it is also regulatory and reputational. Furthermore, water risk is not only driven by river basin conditions, but by the susceptibility of operations in a given city or industry.
Freshwater is the foundation of life and a core area of focus of WWF. We have worked with cities, Global 500 companies and financial institutions to tackle water risks facing both people and nature. By helping public sector agencies and private sector companies understand the risks they face, it helps to create a shared understanding of the need to jointly address shared water challenges.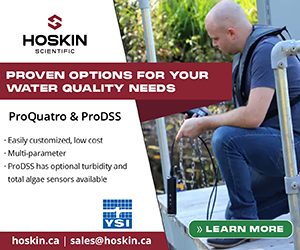 A tool for water risk
In 2012, this logic led us to launch the Water Risk Filter, a tool initially intended to help users assess water risk. Much has evolved over the past seven years, and this August will see the relaunch of the Water Risk Filter with a vast array of new features and data to enable users to explore, assess, value, and respond to water risk. Not only will it incorporate even better data and sport a more user-friendly design, but it will also introduce new valuation and response sections. Along with being the only water risk tool that assesses both basin and operational risk, this upgrade will also make it the only one that can guide tailored responses and translate risks into financial impacts. In short, it will allow users to harness state-of-the-art data to identify risk hotspots and prioritize customized interventions to optimize value.
In advance of the relaunch, we have started to harness the enhanced tool to explore issues of water risk around the world, including cities. Globally, cities are the economic and socio-cultural engines of our nations. In Canada, major cities account for over 70 per cent of the national GDP and population. To understand the different water risks facing Canada's cities, we looked at the local watershed in which each city lies as well as the source basin for its drinking water. We focused on the physical risks for the 37 major metropolitan census areas of Canada.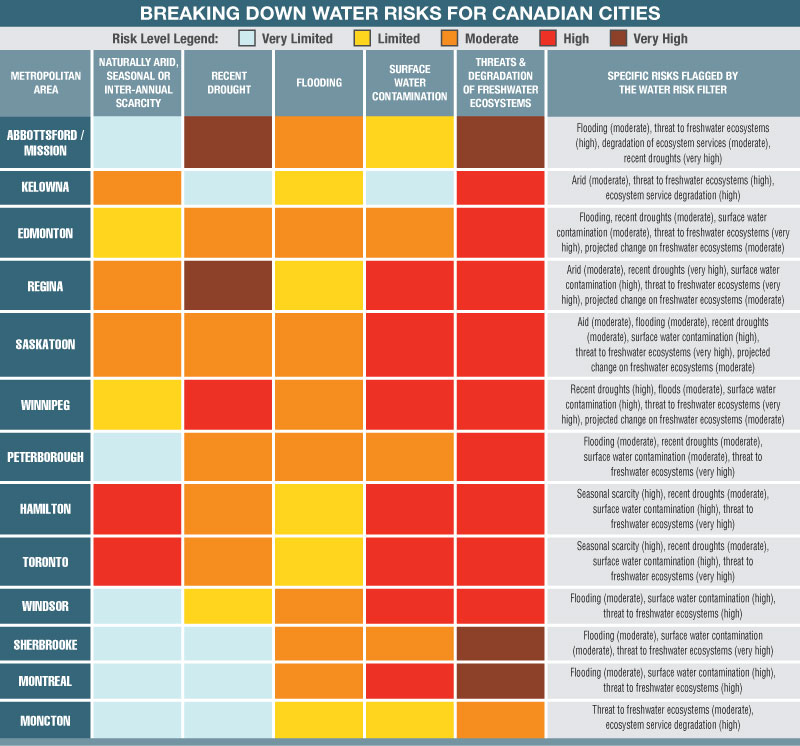 An initial scan suggests that the cities in the Prairies and Southern Ontario are at elevated levels of water risk. Surface water quality and ecosystem degradation present the highest risks to many Canadian cities, while several cities facing a degree of flood and drought risk exposure. Recent years have seen massive harmful algal blooms due in part to a loss of wetlands and their purification services. This degradation of green infrastructure is not only relevant for surface water contamination, but also for flood mitigation—an issue affecting a number of the cities, including several of the cities in Western Canada. The assessment also highlighted the fact that several of the assessed cities, such as Abbotsford and Regina, and interestingly Yellowknife, are projected to experience a decrease in the discharge of water from their source basins. While Canada may not face the world's greatest water risks, we are certainly far from water-risk free.
Resilient response
To begin to mitigate the risk of drying and downing assets in a world facing a changing, more extreme climate, it is critical that we begin to consider social, economic, and environmental resilience. Resilience, as much as risk, will determine our future as events grow in severity and frequency. However, resilience will require not just investments in our built, grey infrastructure, but a new appreciation and approach to our natural, green infrastructure such as wetlands. It will require new thinking in economic resilience to diversify our economies against water risk and capacity building to ensure social resilience.
It is imperative that cities, communities, companies, and governments all have the ability to not only assess water risk but also ensure suitable resilient responses. Accordingly, the updated Water Risk Filter will also feature a new "Respond" section that will equip users with recommended actions to improve resilience to water risks. For Canadian companies, it also offers an ability to assess exposure to water risk, but also critically, regions of the world that need Canadian innovation and solutions to water challenges. In short it will enable improved decision making by allowing users to explore, assess, value, and respond to water risks 
and opportunities.
Beyond the tool, WWF is committed to strengthening water resilience around the world. From addressing #DayZero in Capetown, to establishing bankable projects on water in Asia, to working with communities here along the Saint John's River, WWF is working to protect, manage, and restore our river systems.  WC
This article appeared in the May/June 2018 issue of Water Canada. On June 20th, author,  Alexis Morgan will be speaking at the Canadian Water Summit about the applications of The Water Risk Tool. Feature image credit: Daniel Williams.