A partnership between the Nature Conservancy of Canada (NCC), the Tallcree Tribal Government, the governments of Alberta and Canada, and Syncrude Canada have led to the creation of a 3,300-square-kilometre conserved area in northeast Alberta. When added to other contiguous conserved lands in the area it is now part of the largest stretch of protected Boreal forest on the planet—an area more than twice the size of Belgium.
A series of agreements between have contributed to the creation of the new Birch River Wildland Provincial Park. The park borders the southern boundary of Wood Buffalo National Park.
The catalyst for the announcement was a decision by the Tallcree Tribal Government to relinquish its timber quota. NCC purchased the relinquishment for $2.8 million with the majority of the funding provided by Syncrude Canada Ltd.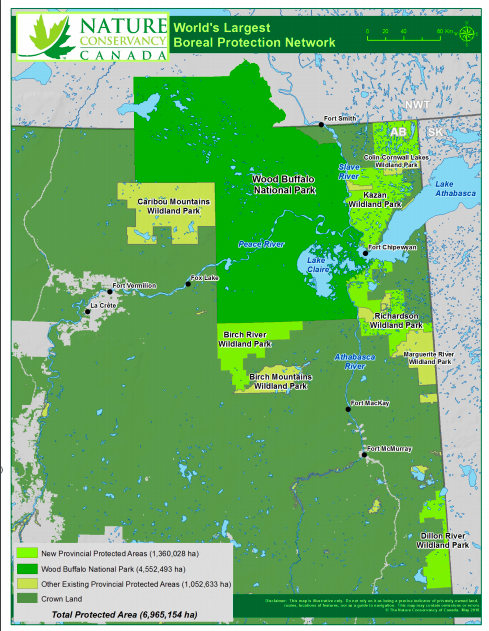 The cancellation of the timber quota has cleared the way for the Government of Alberta, through an Order in Council, to create the Birch River Wildland Park. When added to other new and expanded neighbouring parks, (Richardson, Kazan and Birch Mountain), as well as Wood Buffalo National Park, this forms the largest contiguous conserved boreal forest area in the world. The protected area now measures nearly 68,000 square kilometres.
Canada's boreal zone is part of a wide, green band that encircles the globe's northern latitudes. Nearly a third of the world's boreal zone lies within Canada, and its forest teems with life. In 2011, Water Canada reported on a study that found that Canada's boreal contains more unfrozen freshwater than any other ecosystem on earth and plays a major role in regulating the global climate.
The wildland park will directly contribute to Canada Target 1—the nation's pledge to the world to conserve 17 per cent of our land and inland waters by 2020.
Hero image: Boreal Forest by Fort McMurray. Credit: Michel Rapinski