Axine Water Technologies has received $1 million from the Government of Canada's Western Innovation Initiative (WINN) to deploy its disruptive, electrochemical oxidation technology for treating toxic wastewater at customer sites in the chemical manufacturing, pharmaceuticals, microelectronics, and other water-intensive industries.
The funding was announced on March 15 at the #BCTECH Summit in Vancouver by Navdeep Bains, Minister of Innovation, Science and Economic Development. Axine Water is one of 12 companies highlighted by the minister in the current $14.8 million announcement of funding. The WINN program provides $100 million in repayable contributions to small and medium-sized enterprises across Western Canada.
"Canadian companies are working hard to bring their innovative products and services to market," said Navdeep Bains, Minister of Innovation, Science and Economic Development and Minister responsible for Western Economic Diversification Canada. "The Government of Canada is proud to support Axine Water in developing new clean technology solutions for customers worldwide. Clean tech organizations like Axine Water are promoting economic growth, creating high-quality jobs for Canadians, and furthering Canada's innovation landscape."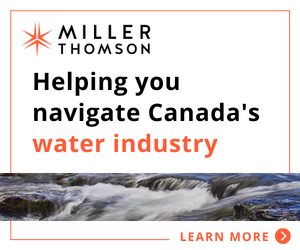 "We are very pleased to collaborate with the Government of Canada," said Axine Water CEO Jonathan Rhone. "This funding will help finance the deployment of our 'made-in-Canada' technology under multi-year wastewater-as-a-service agreements with multinational customers in the pharmaceutical, chemical manufacturing, and microelectronics industries. This will enable our customers to lower their operating costs and eliminate the practice of trucking wastewater off-site for disposal without spending their own capital."
Axine Water develops low cost, chemical-free solutions for treating ammonia and toxic organics in industrial wastewater addressing multi-billion dollar pain points for customers in the microelectronics, chemical, pharmaceutical, and other industries. The company has frequently made news for its innovative watertech, making a list of top global cleantech companies, winning an innovation award in February, and helping fuel the $1.8 billion B.C. cleantech sector.
Axine Water solutions are based on a breakthrough electrochemical technology that is compact, modular and integrates into existing treatment plants to target specific pain points without disrupting operations. Our service model enables customers to access the technology with minimal capital investment. This enables them to immediately reduce costs and risks, eliminate off-site wastewater trucking and disposal, improve wastewater system performance, increase water reuse, and ensure compliance.