In its tenth year, the 2017 Canadian Water Attitudes Study was released by RBC today providing an in-depth examination of how Canadians think, feel, and act regarding our fresh water.
As part of RBC's 10-year global commitment to help protect freshwater resources in Canada, the Water Attitudes Survey serves as both a benchmark of progress made and barometer of the freshwater issues that matter most to Canadians.
Robert Haller, executive director of the Canadian Water and Wastewater Association commented on the fact that, in addition to being released during Canadian Water Week, the survey comes in time for the next federal budget. He said that they two are connected.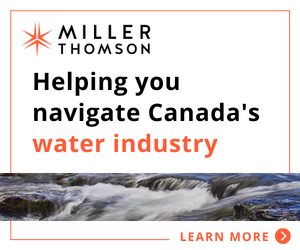 "The survey supports the actions of the government. They can feel buoyed that Canadians see water as one of their greatest resources," said Haller. "There is a growing recognition of the importance of infrastructure and that infrastructure does require investment."
He added, "How do we tie the importance of water to the importance of community economy and community health? That's what the RBC is all about. As a bank, they are invested in the personal prosperity of Canadians, and they understand the role that water had played in the importance of that economy—of every job, of every industry, and everyone's health and how we need to invest in it if we need a healthy, wealthy community."
Robert Sandford, EPCOR Chair for Water Security at the United Nations University Institute for Water, Environment and Health said that they survey is also a crucial tool for water professionals in informing their investment decisions.
"In a way, this is a performance measure of how effectively the water community is in terms of reaching out to the community and having them fully understand the implications of managing water properly and the changing climatic regime in Canada," said  Sandford, who has been involved in an advisory capacity of the Blue Water Project since its inception. "It shows that we have a lot more work to do."
In addition to providing the most comprehensive statistical analysis available about Canadians' views on water resources, water infrastructure, First Nations water rights, water governance, and consumer behaviour, the survey also provides a read on the impact of RBC's Blue Water Project, that has pledged over C$49 million to more than 770 charitable organizations worldwide that protect watersheds and promote access to clean drinking water, with an additional $8.8 million pledged to universities for water programs.
The legacy of the Project in Canada is vast, encompassing critical support for grassroots and regionally-specific projects for everything from water quality monitoring and restoration work in the Great Lakes, to support of provincial and territorial water policy development.
"We are beginning to see a maturation of the investments that RBC has made, and we are seeing some very positive outcomes. For example, their support of the development of the northwest territories water strategy has been foundational for the negotiations of what I consider to be an absolute breakthrough in transboundary water agreements,"  Sanford said.
He added that the NWT water strategy was crucial in defining the foundations of the bilateral agreement between the northwest territories and Alberta for the management of the Mackenzie System. The agreement is ecosystems-based and rooted in traditional knowledge.
Highlights from the 2017 survey include:
Canadians continue to view fresh water as Canada's most important natural resource by far (45%), although this is down from 49% in 2016. Nearly a quarter of Canadians perceive oil and gas to be the most important natural resource, up slightly in 2017. Only in Alberta do perceptions of oil and gas (57%), as Canada's most important resource, surpass fresh water (27%).
More than half of Canadians "strongly agree" that water is an important part of Canada's national identity. Canada's fresh water in lakes, rivers, and streams emotes feelings of being fortunate and proud, while very few feel indifferent about water.
 About seven in ten believe that climate change will have a negative impact on Canada's supply and quality of fresh water (67%); this is highest in Quebec (77%) and lowest in Alberta (49%). One-quarter of respondents think climate change will have no impact.
In general, Canadians feel that water issues and infrastructure needs such as protecting drinking water sources, deteriorating sewage and water distribution infrastructure, and the increasing consumption of water supplies will become more urgent for urban communities and municipalities in ten years' time, among other issues.
Water Canada will share further perspectives on the Survey findings from water professionals over the course of Canadian Water Week and in the May/June issue.
For further information, visit www.rbc.com/bluewater.