For millions of North Americans, the outcome of the United States election was as dumbfounding as the rhetoric and scandals that surrounded it.
As many analysts have pointed out, Mr. Trump's campaign didn't offer much in the way of details on his proposed policy positions. However, when it comes water, Trump has left a trail of the ideological breadcrumbs that could suggest potential impacts on water resources.
Climate change
Although the UN climate negotiations in Morocco continue, national leaders are bracing for Trump's repeal of U.S. promises towards the Paris Agreement. In May, Trump promised that within 100 days of taking office, he would "cancel" the agreement and "stop all payments of U.S. tax dollars to UN global warming programmes."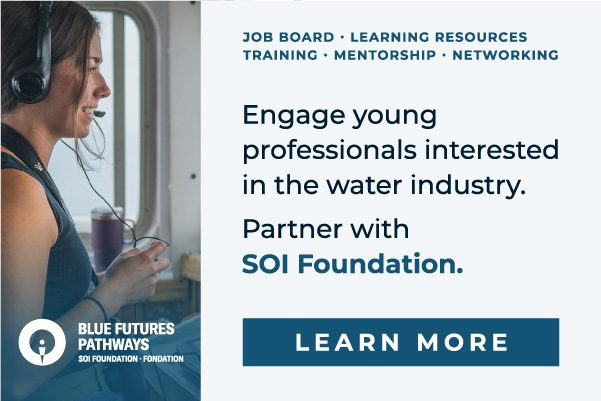 The Paris Agreement, ratified by 103 nations (including the U.S.), set out a global action plan to put the world on track to avoid dangerous climate change by limiting global warming to below 2°C. In 2011, the top carbon dioxide (CO2) emitters were China, the United States, the European Union, India, the Russian Federation, Japan, and Canada. The actions under the Agreement will have broad and significant impacts on water resources.
In a speech last week, France's environment minister, Segolene Royal, noted that it would take four years for the U.S. to withdraw from the Agreement now that it is a binding part of international law. That does not negate the fact that a withdrawal could very well derail the goodwill generated and compromise the ultimate global goal.
Drought in the Western United States
While the American West continues to struggle through what some are calling the worst drought in 1,000 years, threatening drinking water supplies, agriculture, and ecosystems, Trump denied that there is a long-standing problem.
Speaking at a rally of supporters in Fresno, California in late May, Trump accused state officials of denying water to Central Valley farmers. Despite the evidence that water scarcity has progressed in the west since 2011, Trump said flatly, "There is no drought." He also demonstrated a fundamental lack of understanding of the importance of delta ecosystems to water sustainability. "They turn the water out into the ocean," he said, to suggest that freshwater is wasted by keeping these water systems connected.
Trumped solution?
"If I win, believe me, we're going to start opening up the water so that you can have your farmers survive."
What "opening up" meant in unclear. This region of the United States has been bound by state constitutions and long established hierarchies of water use between farmers, municipalities, and industries. Given the water availability crisis, western states and water users have been progressively working to resolve their water issues through mandatory restrictions and collaborative partnerships for years. The situation is so delicate that it is illegal in Colorado to install rainwater capture systems, because nearly all the water entering the watershed is spoken for.
On infrastructure
In late September, Trump travelled to Flint, Michigan to speak to community members and tour a water treatment plant to learn about the water crisis there. Although his speech was cut short by a protesting pastor, he made a commitment to fix the problem.
No concrete solutions were offered, but he eluded to the idea of fixing decades of underfunded infrastructure through job creation.  The mechanism? Gut the North American Free Trade Agreement (NAFTA).
"It used to be that cars were made in Flint and you couldn't drink the water in Mexico," said Trump. "And now the cars are made in Mexico and you can't drink the water in Flint," Trump said at the church. "That's not good. That's not good. It's terrible."
More directly, Trump has also made infrastructure renewal a pillar of his campaign platform. His campaign infrastructure plans propose to:
"Pursue an America's Infrastructure First policy that supports investments in transportation, clean water, a modern and reliable electricity grid, telecommunications, security infrastructure, and other pressing domestic infrastructure needs; and,
Make clean water a high priority. Develop a long-term water infrastructure plan with city, state and federal leaders to upgrade aging water systems. Triple funding for state revolving loan fund programs to help states and local governments upgrade critical drinking water and wastewater infrastructure."
Flood protection
On Aug 19, Trump and his running mate, Indiana Gov. Mike Pence, shook hands and signed t-shirts in the flood-ravaged regions of Baton Rouge, La. He offered condolences and took jabs at President Obama for failing to cancel his golf trip early to visit the region.
"We are one nation," said Trump. "When one state hurts, we all hurt. And we must all work together to lift each other up, working, building, restoring together."
The visit was short and  reactions from people in the region were mixed. Some criticized Trump for doing and donating nothing to the area, while others thought it helpful that he highlight the relief efforts. One church member reported that he personally donated $100,000 to the relief efforts.
Around the same time, Trump visited Miami Beach, Florida where parts of the downtown were still submerged under water due to a devastating storm surge that collapsed a sea wall. The event spurred discussions about climate change, flood resilience, and how the area would need to transform in order to address future property losses. Trump owns several properties that were affected by flooding in Miami, and therefore, has a personal investment in the efforts there.  He told the Miami Herald that while he acknowledges that climate change is happening, he does believe this is due to human activities. When asked about local efforts to cope with the rising sea levels, Trump said, "If they're doing the roads, and if they want to make them higher, I think that's probably not the worst thing I've ever heard, if you're going to do them anyway."
Hydraulic fracturing
On the topic of energy security and the oil and gas industry, Trump's opinions have generally been consistent with the Republican party's pro-development stance. However, in April, he made several statements about the often water-intensive practice of hydraulic fracturing that left many industry leaders puzzled. Trump said that he supported fracking for liquified natural gas; yet, he would support municipalities and states banning the drilling practice if they chose to. This position is at odds with industry groups and congressional Republicans who say the practice is safe and should be permitted nationwide.
Trump reiterated his support for hydraulic fracturing in a speech given on March 2016 in New York, stating, "Did you know—if they fracked in New York—New York would lower its taxes, would have no debt, would have made a fortune. Instead, Pennsylvania took all the money. They took those beautiful, beautiful natural resources, they took them out."
Later in October following a roundtable meeting in Denver, he issued a statement that the U.S. would be the "world's dominant leader in energy production," and that he supports "safe hydraulic fracturing" and "energy production on federal lands in appropriate areas."
Water regulations
It's no secret that Donald Trump opposes the perceived burdens of government regulations on the private sector. His campaign statements suggest a bleak future future for the EPA. At a March GOP debate, he proposed dismantling the environmental regulator and naming climate change skeptic, Myron Ebell, director of the Center for Energy and Environment at the conservative Competitive Enterprise, to head the EPA transition team.
I'd "get rid of [the EPA] in almost every form," Trump said. "We are going to have little tidbits left but we are going to take a tremendous amount out."
Regulatory reform—mainly deregulation—is one area that has been profiled in his electoral policy platform. Specifically, Trump identified the federal Clean Water Rule—an extension of the Clean Water Act—as one regulation that would meet the chopping block should he be elected.
For those unfamiliar with the Water Rule, it is an amendment authored by the EPA and the Army Corps of Engineers, that expands the reach of the Clean Water Act to protect U.S. streams and wetlands from pollution. Effectively, the Water Rule refines the definition of hydrologic features that warrant protection under the Act and is intended to clarify the terms of the Act, permitting less costly, easier, and faster approvals for businesses and industry.
Trump said that the regulation wastes money and eliminates jobs. The Trump policy statement promises to "eliminate our most intrusive regulations, like the Waters of The U.S. Rule."
During a September 2016 speech at the Economic Club of New York, Trump specifically said, "Every year, over-regulation costs our economy $2 trillion a year and reduces household wealth by almost $15,000. I propose a moratorium on new federal regulations that are not compelled by Congress or public safety, and I will eliminate all needless and job-killing regulations now on the books—and there are plenty of them. This includes eliminating some of our most intrusive regulations, like the Waters of the U.S. rule."
Does Trump have a hate-on for water policy or a misunderstanding of water issues?
Despite evidence that points to efforts to undermine the management of water resources, Trump has said that he is a big supporter of water issues. During an August 2016 interview, Trump said, "I am a huge believer in clean water and clean air. Crystal clean water and air. I'm a very big believer in that, and we have a lot to do with that—keeping our water clean and keeping our air clean."
As a nation that shares a border, management of the Great Lakes, and many watersheds with U.S., Canada must wait and see the decisions that will follow.