The Royal Canadian Mint, with the help of Mint engraver Matt Bowen, have announced the release a new 2018 $250 Fine Silver Coin that celebrates Canadian Voyageurs and river travel. The coin represents the time in Canadian history when, fur traders would travel via waterways and the vehicle was the canoe, designed and perfected by Indigenous Peoples. Most voyageurs were French-Canadian, identifiable by their distinctive clothing.
The coin's dramatic scene of the intrepid trailblazers who fueled early Canada's fur trade, paddling down an untamed river, is rendered in depth and dimensions that were not previously possible for silver coins.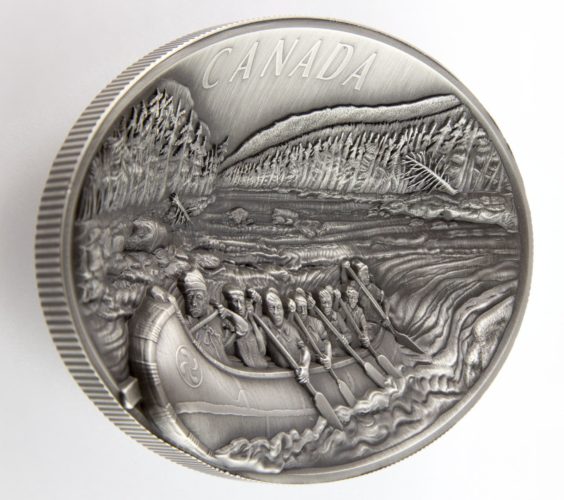 More examples of exceptional sculptural relief can be found on the 2018 $50 Fine Silver Coin – Whale's Tail Soapstone Sculpture which features Winnipeg artist Dave Zachary's hand-carved design of a humpback whale's flukes jutting out of a shimmering translucent blue enamel layer realistically emulating Canada's North Atlantic waters.  Visible beneath this watery enhancement is Mint engraver Cecily Mok' engraving of the whale's head as the majestic creature dives to the icy depths below.