Water, water everywhere! It's a compound we can't live without. Yet, as much as we rely on water for our survival, it can also be a source of damage — with flooding wreaking havoc on crops and communities, and scarcity impacting health and survival.
Souther Alberta Institute of Technology's (SAIT) Integrated Water Management students are starting local with solutions to tackle the threat of flooding damage as well as increasing conservation in landscape use.
Data-driven flood solutions to safeguard Calgary communities
For their final major project, second-year Integrated Water Management students Aidan Yakymyshyn and Dawson Smethurst dove into data to create stormwater improvements for high-risk flooding areas around Calgary.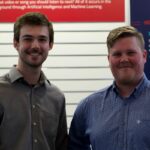 The City of Calgary's River Engineering team provided Yakymyshyn and Smethurst with four different spatial Geographic Information System (GIS) data sets.
"By combining the spatial GIS data sets, we were able to identify local communities susceptible to potential pipe backups due to flooding," says Yakymyshyn.
Yakymyshyn and Smethurst presented their findings to the City of Calgary team, where the two students recommended stormwater outfall upgrades.
"Using insights from our data analysis, we recommended the city install water flow control devices (valves) in flood-prone areas. The potential cost of damages in the absence of these valves could be three times the cost of installing the valves," says Smethurst.
Yakymyshyn and Smethurst aren't the only ones coming up with local water solutions. Second-year Integrated Water Management students Nicole Willment and Parisa Khorsand created sustainable water recommendations for the Calgary Airport Authority and their surrounding tenants of hotels, dining areas and transportation services.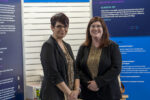 Willment and Khorsand's goal was to identify ways to reduce the amount of potable water needed for landscaping irrigation purposes.
"Our project deliverables included surveying the Calgary Airport Authority tenants to understand better how they use potable water and complete literature reviews on water reuse options and zero irrigation landscaping practices," says Willment.
The duo collected enough data to recommend how the airport could update landscaping guidelines for all new developments.
"To minimize potable water consumption for irrigation, we proposed the Calgary Airport Authority enhance its landscape guidelines by exclusively incorporating native and drought-tolerant plant species for all future project developments. Additionally, we advocated for implementing new strategies to gather and repurpose storm and rainwater resources to foster sustainability and conservation practices within the airport," says Khorsand.
"Leveraging the skills we learned through this program, and working on a water sustainability project with a large company has been an incredible experience. It feels like we're making a difference," says Willment.
For other news from Southern Alberta Institute for Technology visit: https://www.sait.ca/news