Policy
Anyone interested in the business of water in Canada will be looking to Ontario to see what, if any, effect the recently passed Water Opportunities and Water Conservation Act will have on the industry. With the current Liberal government gung ho on making Ontario a world leader in the development and implementation of water technologies, and with an election scheduled for October 2011, look for a string of announcements on initiatives, funding, and partnerships highlighting accomplishments in the water sector.
Depending on which political party wins the next provincial election, the Act will either be the catalyst that spurs the industry to tremendous growth or it will be scuttled under new austerity plans that focus on cutting spending to reduce the deficit.
Another policy trend that is sure to continue is the full costing of water. With municipalities across the country in need of upgrading infrastructure but hesitant to increase prices for an electorate already feeling overburdened by taxes, the clear choice is to move toward an increase in water and sewage rates. It's better to sell an annual 10 per cent increase in water utility rates by pointing out that fact that tap water is still only pennies per glass versus bottled water then to bury water infrastructure costs in a tax bill.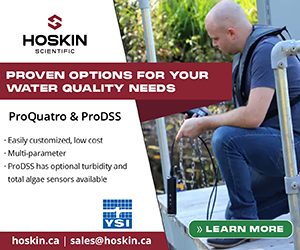 Business
In the short-term, it will be survival of the fittest. As the world economy slowly recovers from a recession, water companies reliant on the residential market will need to work hard for sales. Focus on customer needs and providing value-added service will help keep customers and grow a business through word-of-mouth.
Based on a recent Deloitte research report showing increased merger and acquisition in the cleantech sector, larger companies looking to expand will likely continue to gobble up smaller high-growth firms that have limited capital for growth.
One trend that will likely accelerate is the foray of U.S.-based companies into Canada. All the conditions are ripe for a U.S. invasion. A relatively strong Canadian economy and variable exchange rates will continue to attract global giants such as IBM, LG, and others getting into the water business. Their presence will be felt in 2011 as they bring a considerable amount of money, business expertise, and aggressiveness to the market.
Science and tech
It is unlikely that that majority of the Canadian population knows what endocrine disrupting chemicals (EDCs) do and how they affect one's health, but the name is enough to be frightening. It seems like there is a monthly media report of another EDC being discovered in our lakes and rivers.
It has become evident that conventional technologies cannot remove all EDCs from water and wastewater streams. The move toward advanced technologies will grow.
Regional water shortages in North America will become acute. A recent article in 24/7 Wall Street listing the 10 largest U.S. cities most likely to face water shortage in the near future provides some sobering facts about how close some cities have come to being unable to supply their citizens with water.
The continued growth of major urban centres, overtaxed aquifers, and drought conditions in some parts of the North America will spur the need for technological solutions that can alleviate the problem. Water reuse and recycling technologies that show success will be fast-tracked for major use.
The linkage between energy use and water expenditure is now being understood by industry and public utilities alike. Recognition of the relationship between energy and water use will grow and more opportunities to reduce both will be found. More research and development in the area is expected in the next few years.
Bold predictions
One trend that may develop and grow is households decoupling themselves from all public utilities. With water recycling and reuse technologies becoming cheaper and municipalities even providing subsidies for water reuse, it is very possible that entire subdivisions could be built without being connected to the town's water, stormwater, or sewage system.
One thing is for certain, cooperation is needed amongst water professionals from every sector to address the immense challenges that lay ahead. No one company, no one organization can face this alone. Water resource management, conservation, water recycle and reuse, energy/water reduction, EDCs, and other challenges need all players to be involved to find and implement appropriate solutions.  WC
John Nicholson is a co-founder of Environmental Business Consultants.
Kevin Wong is the executive director of the Canadian Water Quality Association.