Of the news stories that examined new research in the water sector, the following five news stories that were the most read on Water Canada's website in 2019.
York University Research Uses AI to Predict Flood Risk in Real Time
Researchers from York University can now predict river water levels days in advance of floods using artificial intelligence and data from two rivers: the Don River in Toronto and Bow River in Calgary. The study, led by Usman T. Khan from York University, was published in the Journal of Hydrology. It used four models to predict water levels, including two developed specifically for this research. Read the full news story here.
Canada Home to Vast Majority of North America's Remaining Longest and Free-Flowing Rivers
Just over one-third (37 per cent) of the world's 246 longest rivers remain free-flowing, according to a new study published in the scientific journal Nature. Of those found in North America, 73 per cent are in Canada. Dams and reservoirs are drastically reducing the diverse benefits that healthy rivers provide to people and nature across the globe. Read the full news story here.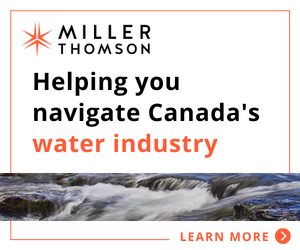 New Research Examines Water Sustainability Plans in B.C.
A new Innovation Brief from the University of Victoria's POLIS Water Sustainability Project and Environmental Law Centre investigates how Water Sustainability Plans, enabled by British Columbia's new Water Sustainability Act, can help address the water challenges ahead in the province. Read the full news story here.
UBC Researchers Develop Diagnostic Tool for Detecting Cryptosporidium
Using a small and inexpensive biosensor, researchers at the University of British Columbia (UBC) have developed a novel low-cost technique that quickly and accurately detects cryptosporidium contamination in water samples. Read the full news story here.
U of G Researchers Receive Over $10 Million for Groundwater Research
University of Guelph (U of G)researchers will help to ensure safe, sustainable drinking water for Wellington County's growing population through groundwater research. The new funding will enable U of G investigators monitoring local bedrock aquifer wells to learn more about groundwater and its interaction with surface water. This information will ultimately help the City of Guelph and nearby municipalities manage resources more sustainably, according to Engineering Professor Beth Parker. Read the full news story here.