A majority of the municipal wastewater treatment facilities that are in operation today were built before "going green" was a thing. Back then, treatment performance was a priority and energy efficiency—let alone energy neutrality—was not top of mind.
According to the U.S. EPA, community drinking water and publicly owned wastewater systems in the U.S. use 75 billion kWh of energy per year—as much as the pulp and paper and petroleum industries combined, or enough electricity to power 6.75 million homes. The EPA also identified energy as the second-highest budget item for municipal drinking water and wastewater facilities, after labour costs, with utilities spending about $4 billion annually on energy. Energy consumption by drinking water and wastewater facilities can comprise 30 to 40 per cent of a municipality's total energy bill.
Because of rising energy costs, the idea of becoming energy efficient or energy neutral is gaining momentum. Due to growing populations, tightening environmental regulations, and the ever-increasing demand and cost for electricity, the push to conserve energy is strong, prompting wastewater treatment facilities to thoroughly review operations. Energy neutrality is an option because the amount of energy present in wastewater is two-to-four times the amount that is required to treat it. The challenge is reducing the energy consumed in treatment and harnessing the energy in a manner that's reliable, efficient, and cost-effective for both new and existing facilities.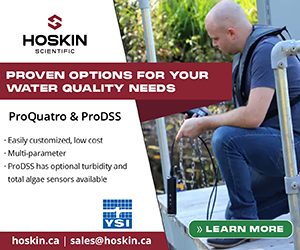 In Oakville, Ont., GE Water & Process Technologies has been leading the effort to enable energy neutral wastewater treatment. One area of focus has been biological treatment, a critical process that removes nutrients and organics from sewage. Bacteria metabolize these nutrients and organics during secondary treatment with the help of oxygen, which is typically pumped through diffusers to create bubbles. The process requires more than half of the energy demand in wastewater treatment, but with most of the oxygen rising to the surface unused, most of that energy is wasted.
A leap forward in wastewater treatment
Recognizing this as an opportunity, GE's Oakville team, along with their colleagues in Europe, set out to create a more efficient way to transfer oxygen. The solution replaces conventional bubble aeration with a membrane that delivers oxygen to a biofilm by diffusion. Oxygen is transferred without bubbles through a gas-transfer membrane, which favours the establishment of a nitrifying biofilm. The technology, a new hybrid membrane-aerated biofilm reactor (MABR) known as ZeeLung, operates in a high mixed liquor suspended solids (MLSS) environment, making it suitable for use in a conventional activated sludge process.
Utilities are facing a growing challenge of meeting more stringent discharge regulations. While the industry has solutions for addressing this challenge, they typically involve increasing the complexity and energy demand of treatment plants. This pattern is not sustainable, particularly in a world with increasing energy costs and attention to reducing greenhouse gas emissions. ZeeLung's MABR technology is an innovative solution that allows utilities to upgrade existing facilities to meet more stringent discharge regulations while significantly reducing the energy used for treatment.
The building block of the new ZeeLung MABR is a flexible, yet unbreakable "cord" that is constructed of dense-wall, oxygen-permeable hollow fiber membranes distributed around the circumference of a yarn reinforcement core. Multiple cords are potted into top and bottom headers to create a module. The top header delivers and distributes air to the inside of the fiber lumens and exhaust gas is collected in the bottom header. Modules are installed in cassettes for deployment in biological reactors. Reactor mixing and biofilm thickness control is provided with minimal energy input by a coarse bubble aeration system integrated into the ZeeLung cassette.
In addition to reducing energy consumption, ZeeLung MABR improves capacity for nutrient removal or expansion in existing tank volumes. The biofilm that is supported on the ZeeLung membrane increases the inventory of bacteria in the bioreactor, enabling increased treatment performance. This allows utilities to avoid the need to build new bioreactor volume, thus saving plant footprint and capex.
Partnering for success
GE operates a research facility at the Environment Canada Wastewater Technology Centre in Burlington, Ont. This facility plays an important role in the development of new technologies as it allows testing of new products and processes in real wastewater conditions. In partnership with teams in the U.S., the U.K., and Hungary, GE's Oakville team designed and fabricated a ZeeLung MABR system for pilot testing at the Wastewater Technology Centre. The study mirrored a full-scale plant and proved that GE's ZeeLung MABR concept was indeed a viable solution for improving nutrient removal in a small plant footprint while significantly reducing energy consumption compared to conventional treatment.
ZeeLung MABR is an ultra-low energy biological treatment process, and just one of the fundamental components for energy neutral wastewater treatment that GE provides a solution for. The other three components include:
Enhanced primary treatment: Considerable energy is needed to treat suspended organics. By shunting them away from biological secondary treatment to sludge treatment, facilities reduce consumption while increasing energy production.
Advanced anaerobic digestion: The organics shunted from the biological treatment are processed through advanced anaerobic digestion, converting sludge into biogas that can then be converted to electricity while producing biosolids for agriculture or other beneficial use.
Energy recovery. Biogas produced during advanced anaerobic digestion is converted into electricity and heat by gas engines or recovered as natural gas.
The future looks bright
Looking ahead, the GE Oakville team will continue to commercialize the technology by incorporating ZeeLung into both greenfield and retrofit applications. The overall goal is to ensure wastewater treatment plants can accommodate increasing demand and more stringent effluent requirements with a simple, low-energy solution that supports the move to energy neutral operations.
Jeff Peeters is a senior product manager with GE Water & Process Technologies.