For years, DUC has been demonstrating the wide range of functions that wetlands can provide in both rural and urban landscapes, from naturalized wastewater lagoons, naturalized stormwater settling ponds, bioremediation and naturalized stormwater retention basins. Here are a few examples. 
Naturalized stormwater retention basins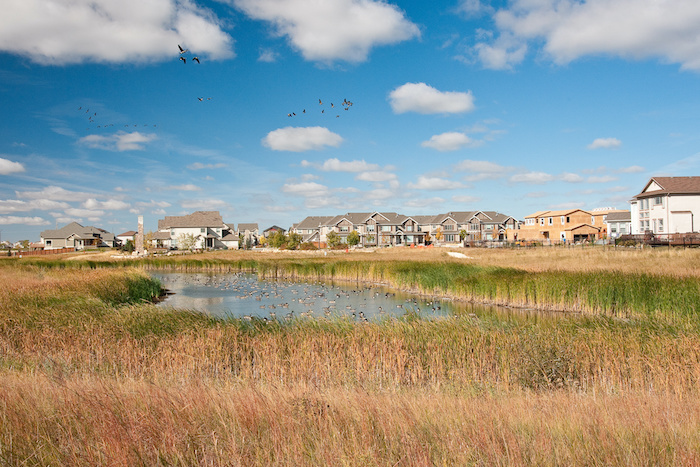 DUC has initiated design and construction of naturalized stormwater retention basins that incorporate biological processes to filter and store water. They have naturalized almost 100 stormwater basins in Winnipeg, fully integrating wetland-like retention ponds into communities. Unlike traditional stormwater ponds, wetlands store and filter water, capture carbon, support biodiversity and draw out the community to enjoy nature. 
Naturalized wastewater lagoons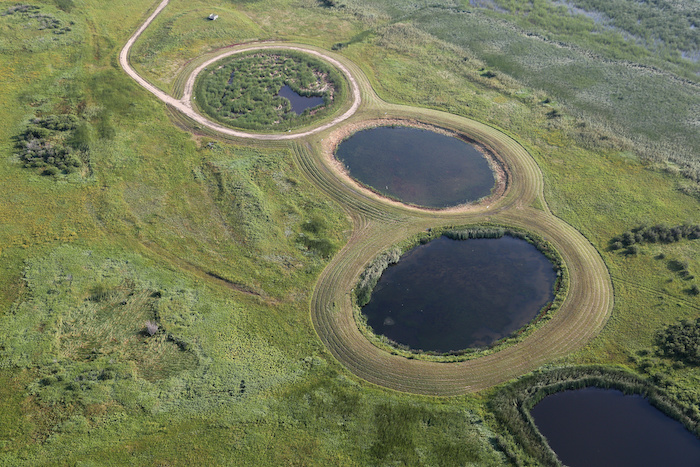 Expensive wastewater treatment facilities can be out of reach for small, rural communities. That's what prompted DUC to create a three-cell lagoon to naturally treat wastewater at the Harry J. Enns Interpretive Centre in the early 1990s, a system still in use today.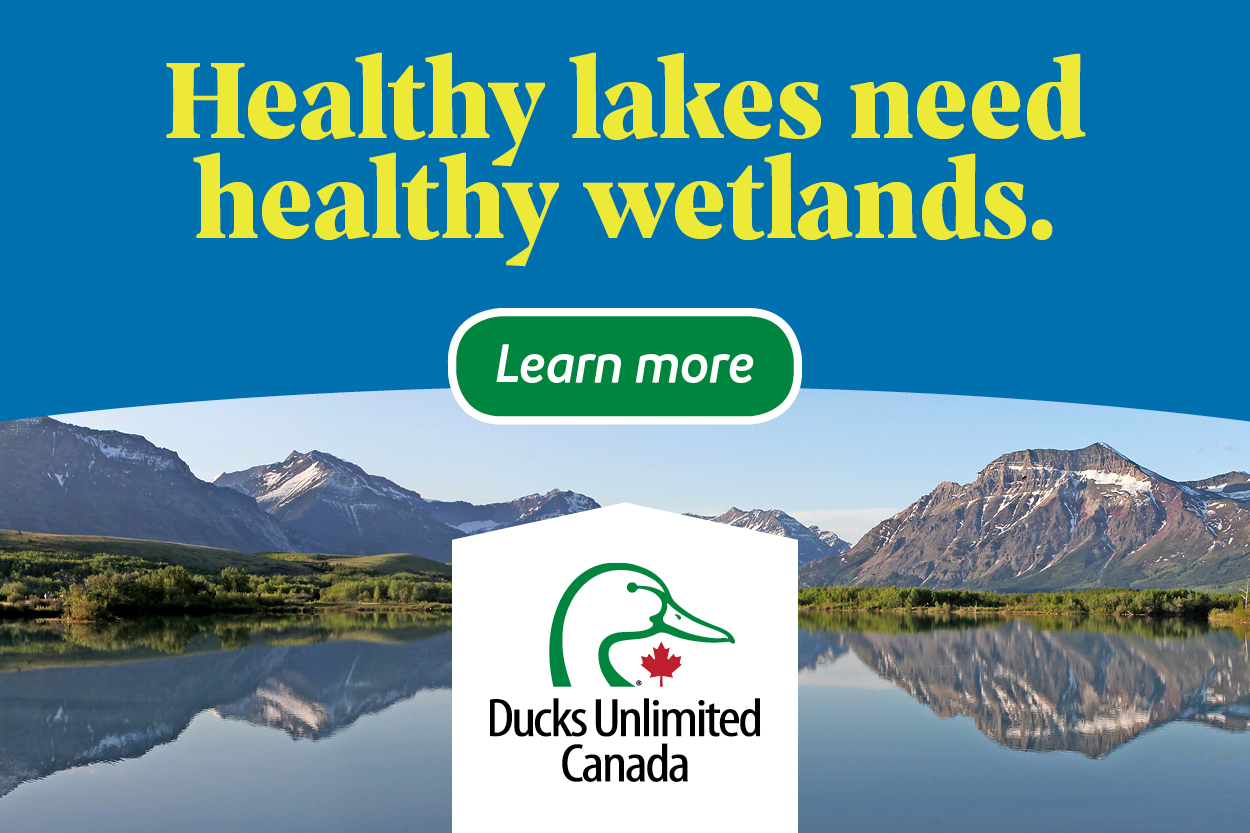 "Lagoon systems are an alternative that does more than treat the water," said Paula Grieef, resident naturalist at the education centre that also houses DUC's national offices and Institute for Wetland and Waterfowl Research. "The water passes through two filtration cells and, when it reaches the naturalized third cell, it's ready for wildlife to use the habitat."
Natural infrastructure adoption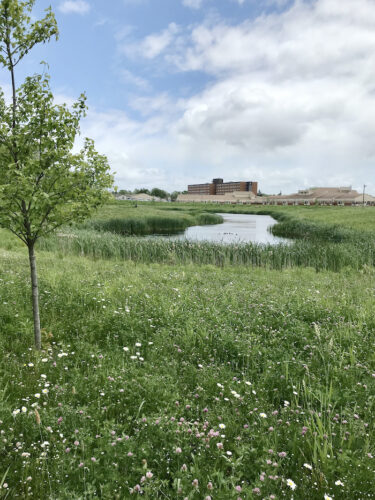 In 2015, DUC worked with the City of Moncton to draft naturalized stormwater management guidelines. The innovation represented a shift in approach for development in the city. 
"We had a lot of water quality issues in the city around our storage areas," said Elaine Aucoin, Moncton's director of environmental planning and management. The city responded by constructing wetlands in a large park and, based on that success, began to integrate functional habitats directly into neighbourhoods. 
The benefits for water quality were the motivation but Aucoin and her staff observe that expectations for cities change with generations. Millennial home buyers, they note, place a high value on natural infrastructure and want to see it where they live.
Naturalized settling pond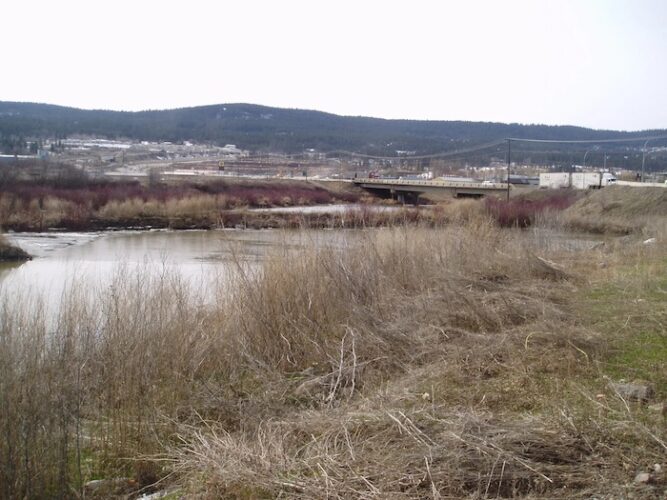 DUC created a purpose-built settling pond beside 100 Mile House Marsh, where DUC has an existing conservation project, in British Columbia. The pond filtered sediment from water, produced during construction of a highway intersection, before it entered the marsh. The settling pond was built in 2007 as a temporary measure. But it's been retained by the community to protect the water in the marsh and the watershed.
"Both natural wetlands and stormwater settling ponds are filtering and purifying water," said Katharine VanSpall, DUC's head of habitat asset management. "There's a natural solution to containing pollution from urban structures like highways and streets."
Wetland restoration offers hope for improved water quality even for areas where most of the natural wetlands have been destroyed.
Naturalized municipal drain outlet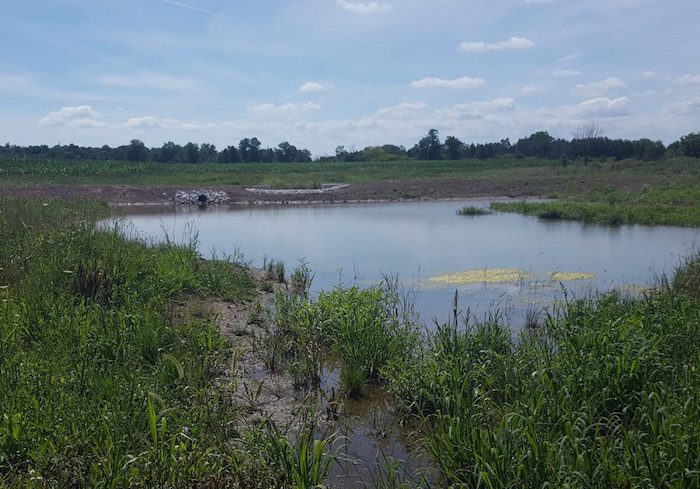 A municipal drain in rural Ontario is buffered by wetlands to hold and filter water from the surrounding farm fields. DUC worked with the municipal drainage engineer and the landowner to create three ponds that retain water at the drain's outlet. 
Elizabeth Cummings, drainage superintendent, said, "Southwest Middlesex is excited to see the Drainage Act used as a tool to promote environmental enhancements for healthy watersheds. We look forward to being a part of more projects of this nature in the future."
Put together, DUC's work on the ground and two years of research have produced major implications for clean water in Canada and beyond. Each project enhances scientists' understanding and brings new supporters to the table. 
A future of strategic wetland restoration can meet and match priority setting for clean water, biodiversity and people. Individual decisions—from private landowners, local decision makers and water professionals—can make the difference between a future of plunging into a lake's welcoming waves and one restricted by the dangers of "sick" lakes and their frightening impacts on people, pets, livestock and wildlife.
FURTHER READING
Burnishing a Natural Gem on the Shore of Lake Erie: A mix of ecosystems creates a wildlife hub in a Haldimand County park (Story)
Julie Pollock is an environmental writer and communicator for Ducks Unlimited Canada.