Canadian water companies had a strong presence at WEFTEC®, the Water Environment Federation's annual Technical Exhibition and Conference. The event is the largest conference of its kind in North America; a unique opportunity for Canadian companies that are looking to break into U.S. and international markets.
A total of 89 Canadian water companies showcased their products and services in booths on the exhibition floor. Over 22,000 people attended.
"Canadians have a desire to protect the environment and public health. This is demonstrated by the number of Canadian innovative water technologies coming to the market," said Robert V. Menegotto, President and CEO of MANTECH Inc., an exhibitor in the Ontario Pavilion at WEFTEC.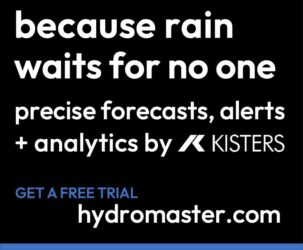 "Having proven these technologies in the domestic market, WEFTEC provides the right mix of U.S. and international reps—utilities, industry, consultants and academics—to introduce and market Canadian-made innovations abroad.  For MANTECH, we have benefited from the networking opportunities to meet reps from all water sectors resulting in the generation of export sales," he said.
"Supporting the cross-border business efforts of MANTECH and others, the event featured a panel session on overcoming trade barriers, an Ontario Pavilion, and a business-to-business breakfast aimed at fostering partnerships. These events were designed to enable formal and informal discussions about issues such as jurisdictional taxes, tendering processes, payroll reporting requirements, getting material across the border, visas and work permits, insurance, and the numerous other matters that making working abroad challenging and complex.
"We have found that trade shows that have been supported by the Canadian Trade Commission have been very good ways to introduce ourselves to customers," said Kevin Loiselle, President and CEO of Clearford Technologies in a panel session of barriers to trade.
"The first thing a company has to do is a type of missionary work. It's relationship building. You simply cannot get things done without demonstrating that you care about that market and are interested in establishing the type of relationships that are required to build a level of trust," he said.
"I think more and more companies are ready to take on the U.S. market," said Rita Patlan, Area Director of U.S. Construction, Environment and Cleantech with the Ontario Ministry of Economic Development, Trade and Employment.
"Canadians are in a good position to take advantage of a lot of projects that are coming on-stream. The water sector is one that is going to continue to grow regardless of what the economic situation may be in either country, because water and wastewater infrastructure is literally falling apart in some parts of the country," she said.
The Ministry of Economic Development, Trade and Employment together with Ontario's Water Technology Acceleration Project (WaterTAP) and the Ministry of Research and Innovation hosted an Ontario Pavilion to showcase the province's muscle in the water-tech sector. A total of 39 Ontario water companies held booths at the event, with 12 inside the Pavilion.
"The Ministry of Economic Development, Trade and Employment, Canadian Trade Commissioner Service, and partner organizations are leveraging our resources and contacts to make cross border introductions and increase business opportunities for our Canadian firms," said Ann F. Rosen, Business Development Officer at Canadian Consulate General in Chicago.
Rosen was instrumental in developing a business-to-business breakfast event in which Canadian companies were matched with U.S. end-users who have a need for their products. The group discussed ways to make tending processes more accessible and ways to access large projects more efficiently, and attendees were partnered off in "speed-dating" fashion to find potential suitors.
"Anne has been a great help to us and the state has also been a great help," said Sean McKaigue CEO of FER-PAL Infrastructure."Getting people to accept any new technology is always a challenge. In terms of trying to penetrate the American market, we've had to make some adjustments," he said.
McKaigue said that companies trying to gain a foothold in the U.S. should leverage the assistance of such government programs and build internal expertise to understand understanding what is happening on the ground level in each jurisdiction in which they operate."Get as much advice up front as you can," McKaigue said.
Despite the obstacles, the companies who participated in WEFTEC are confident that the opportunities outweigh the challenges. Patlan's experiences helping Ontario companies access these markets has deepened her optimism.
"This is the sector that is going to grow regardless of what the economic situation is in either country," said Patlan. "We hear it all the time that the water and wastewater infrastructure in the U.S. is falling apart. With more attention, I expect that this sector will grow exponentially in the next five to ten years," she said.