A collaborative report from Canada's federal and (most) provincial auditors general was presented to the House of Commons yesterday. The report indicates that Canada is not on track to meet its 2020 climate change goals.
"Meeting Canada's 2030 target will require substantial effort and actions beyond those currently planned or in place," stated the report. "Most Canadian governments have not assessed and, therefore, do not fully understand what risks they face and what actions they should take to adapt to a changing climate."
This collaborative report builds on audit work released over the last 18 months by the auditors general of most provinces, as well as the three northern territories and the federal level. The report provides an overall and independent assessment of climate change action in Canada.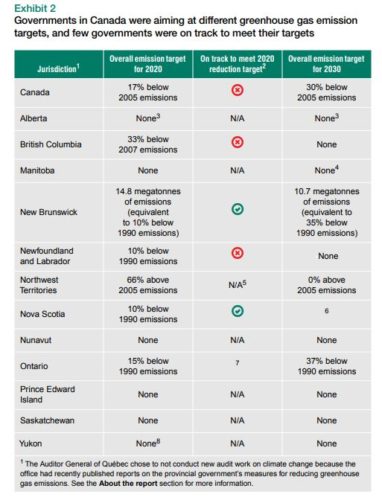 "From our provincial perspective, Government is not on track to meet its 2020 greenhouse gas emissions reduction target of 10 per cent below 1990 levels," said Julia Mullaley, Auditor General of Newfoundland and Labrador. "Government developed the 2011 Climate Change Action Plan to guide the province towards reduced greenhouse gas emissions; however, Government did not implement sufficient measures to achieve its target."
A key weakness across governments is that measures taken are generally ad hoc. "For example, the Government of Nunavut assessed the risks of climate change to sources of drinking water in communities and to the mining industry," states the report. "Without a government-wide assessment, governments cannot prioritize and assign resources to manage risks efficiently."
"The audit work on climate change showed that overall: No government in Canada has met all its climate change commitments; Most who have set greenhouse gas reduction targets are not on track to meet them; And, no government is fully prepared to adapt to the impacts of climate change," said Commissioner of the Environment and Sustainable Development Julie Gelfand in presenting the report to the House. "In other words, Canada still has a long way to go."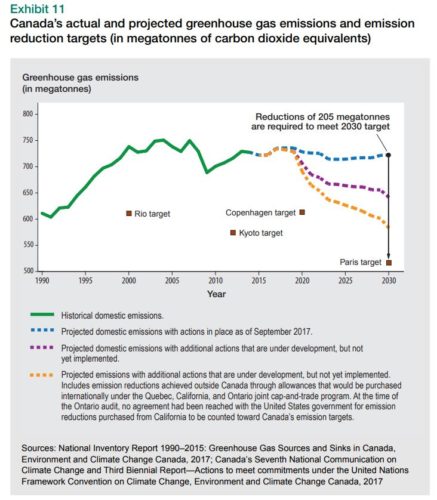 The performance of Environment and Climate Change Canada as a leader on climate change action was found to be mixed. Specifically, it was found lacking in leadership of federal departments in resource sharing and implementing best practices. This was echoed at the provincial and territorial level, as well. "In Ontario, the Ministry of Environment and Climate Change was the lead for coordinating and reporting on the progress of climate change initiatives, but it did not have the authority to require ministries to take specific actions to reduce emissions or reduce harm caused by climate change," states the report.
In order to move forward on climate change, the report suggests that legislators and citizens engage governments on the topics of mitigation, adaptation, coordination, and monitoring and reporting. The full report can be accessed online.