Local community leaders toasted the official commissioning of the Town of Amherst, Nova Scotia's new water reservoir on July 23rd.
"This is a great day for our community. This new reservoir has increased the water pressure in areas of the town that previously experienced low water pressure while also improving the fire flows throughout the town," said Amherst Mayor David Kogon. "The two tanks that make up the reservoir ensure the town will have adequate water storage for the foreseeable future."
The mayor noted the $5.5-million project couldn't have been accomplished without the participation of the federal and provincial governments, which through the joint federal-provincial Clean Water and Wastewater Fund provided 75 per cent of the funding.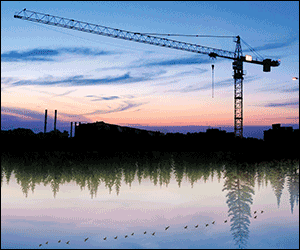 "Without this strategic investment in the town's infrastructure by these senior levels of government, this project would not have been undertaken," Kogon said.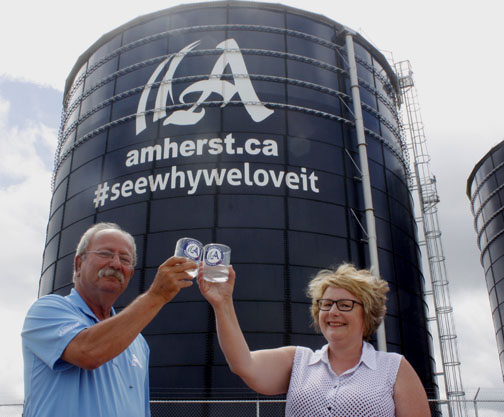 "Modern and reliable water treatment infrastructure is essential to maintaining a clean environment and a livable community," said Cumberland-Colchester MP Bill Casey. "The Government of Canada is proud to support improvements to the Amherst reservoir and storage tank, providing residents of Amherst with better water pressure and reliable municipal services for years to come."
The project was approved by Amherst town council in June 2017 and work began two months later.
The new reservoir features two porcelain-lined steel tanks that stand 15 metres higher than the 43-year-old concrete tank they replaced. Combined, the new tanks hold 13 million litres of water, the same amount as the old tank, which was nearing the end of its useful life.
The height of the new tanks has enabled the town to improve the water levels in the higher-elevations of the community.
Besides the construction of the water towers, the project included the installation of four pressure reducing valve chambers in four strategic locations—MacDonald Road, Robert Angus Drive and Willow and Church streets—as well as modifications to the pumps at the Tyndal wellfield.
The new reservoir was designed by CBCL Ltd., The project's main contractor was Maritech Construction Inc., a local firm, and major subcontractors included Beale & Inch Construction Ltd. and Greatario Engineered Storage Systems Ltd.
Kogon praised the designer and contractors. "They all did a superb job," he said.
The second phase of the original $7.7-million project is about to start. Work includes replacing an existing undersized water main on Willow Street, which will also help to increase fire flows in Amherst's downtown core.