Day One passed with much talk of the economy and how it's affecting environmental businesses.
Not surprisingly, most of the non-technical sessions had a money focus. One delegate asked a panel on the cleantech landscape how to turn investor attitudes from "Hm. This is so cheap right now" to "Wow! This is so cheap right now!"
The good news is that our staff is hearing from all attendees that business for those providing environmental services is booming. One consultant says his company is even opening another office to handle the volume of business.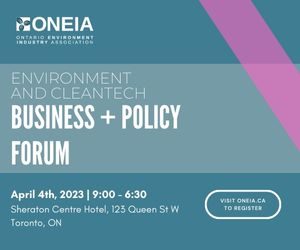 XPV Capital's David Henderson said during a presentation that there are opportunities globally in energy (particularly solar, which already gets 40 per cent of cleantech investment) and water (efficiencies and treatment), citing China and the southern United States as particularly hot markets for investment. (We thought maybe Australia, too.)
Paul Thoppil with Foreign Affairs and International Trade Canada (DFAIT) said there are plenty of opportunities for Canadian companies of all kinds to capitalize on stimulus money worldwide. Water is sure to reap a good portion of these benefits.
The morning began with keynote from Environment Minister Jim Prentice (pictured above, with CWT's managing editor Kerry Freek). Prentice spoke about Canada's efforts on the world stage, referencing next year's Copenhagen Climate Summit and calling for an agreement between federal and provincial jurisdictions to balance economic and environmental policy. In light of FCM's recent vote to encourage municipalities to ban bottled water, CWT asked Prentice about the federal government's position: "There is no doubt that plastic water bottles and bags are significant pollutants," he said. "We have excellent drinking water in Canada."
Watch for more updates here and on our Twitter feed.