A record number of Canadian beaches and marinas will fly a Blue Flag, identifying them a prestigious designation of water quality.
As Canadians celebrate Canada's 150th birthday this summer, they will also be able to visit more clean and eco-friendly beaches and marinas.
This year, a record twenty-seven beaches and eight marinas across the country have earned the Blue Flag, a world-renowned eco-certification for beaches and marinas. To receive a Blue Flag, beaches and marinas must meet high international standards in water quality, environmental management, environmental education, and safety and services.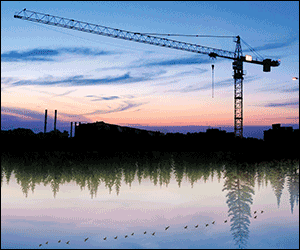 The latest beaches to fly the flag are Moonlight Beach in Sudbury, Ontario, and Outlet Beach at Ontario's Sandbanks Provincial Park. Colchester Harbour Marina in the Town of Essex, Ontario, will also raise the Blue Flag for the first time this year.
"Millions of people around the world look for the Blue Flag when choosing a beach or marina to visit. And there's a good reason for that," said Brett Tryon, Blue Flag Program Manager with Environmental Defence. "A Blue Flag means that a beach or marina is clean, sustainably managed, and meets high safety standards. It is truly a symbol of excellence."
The Blue Flag is administered in Canada by Environmental Defence and is managed internationally by the Foundation for Environmental Education (FEE). More than 4,000 beaches and marinas in forty-seven countries fly the Blue Flag. This year marks the 30th year for the program internationally.
Here is the list of the 27 beaches and eight marinas that have received the Blue Flag in Canada this year:
British Columbia:
Manitoba:
West Grand Beach (Grand Beach Provincial Park)
Winnipeg Beach (Winnipeg Beach Provincial Park)
Nova Scotia:
Birch Cove Beach (Dartmouth)
Halifax Waterfront (Halifax)
Ontario:
Bayfield Main Beach and Bluewater Marina (Municipality of Bluewater)
Bell Park Beach and Moonlight Beach (Sudbury)
Bluffer's Park Beach, Centre Island Beach, Cherry Beach, Gibraltar Point Beach, Hanlan's Point Beach, Kew-Balmy Beach, Ward's Island Beach and Woodbine Beach (Toronto)
Canatara Park Beach (Sarnia)
City of Barrie Marina (Barrie)
Colchester Harbour Marina (Town of Essex)
Grand Bend Beach, Grand Bend Marina and Port Franks Marina (Municipality of Lambton Shores)
LaSalle Park Marina (Burlington)
Outlet Beach (Sandbanks Provincial Park)
Port Glasgow Beach (Municipality of West Elgin)
Port Stanley Main Beach (Municipality of Central Elgin)
Victoria Beach (Cobourg)
Wasaga Beach areas 1, 2 and 5 (Wasaga Beach Provincial Park)
Waubuno Beach (Parry Sound)
Quebec:
plage de l'Est, plage de l'Ouest, and plage des Cantons (Ville de Magog)
More details about the Blue Flag program and the certified marinas and beaches can be found at BlueFlag.ca.