Companies are reporting greater exposure to water risks yet withdrawing more water, according to new research by CDP.
The report, Treading Water, analyzes water data from nearly 800 publicly listed companies, responsible for employing over 36 million people worldwide and representing US$18 trillion in market capitalization.
The research highlights that the number of companies identifying water risks is rising year on year, with 75 per cent now reporting exposure to substantive water risks, up from 70 per cent in 2015. The majority of risks reported are physical (76 per cent), relating to water scarcity and declining water quality. Companies report that these risks could disrupt production, cause brand damage, and lead to the loss of their license to operate in certain regions.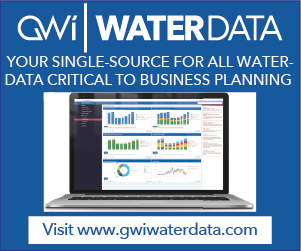 Despite this growing risk awareness, and the number of companies setting targets to reduce water withdrawals doubling, there has been an almost 50 per cent rise in the number of companies reporting higher water withdrawals over that same period (2015 – 2018). This is most pronounced for companies operating in Asia and Latin America, as well as in the food, beverage and agriculture, manufacturing, and mineral extraction sectors.
With industry accounting for 19 per cent of global water withdrawals and a further 70 per cent coming from agricultural supply chains, companies have a massive role to play in meeting the UN's Sustainable Development Goal 6, which calls for clean water and sanitation. And with three in every four jobs globally dependent on a stable supply of water, and companies reporting US$38billion in water-related financial losses in 2018, there is a clear economic imperative to act.
However, despite the scale of the challenge, only 31 of all reporting companies showed enough progress to make the top-ranking 'Water Security A List' in 2018. 11 of these companies are based in Europe, 10 in Asia, and eight in the US. Those that have achieved leadership status include AstraZeneca, Diageo, L'Oréal, and Microsoft.
To achieve this position, companies must not only demonstrate that they regularly assess their risk exposure, but also show they have implemented a strategic response to these risks.
One area where many companies continue to underperform is when it comes to incentivizing boards to better manage water issues. Despite 93 per cent of companies in the most at-risk industries – such as mining and electric utilities – saying they have board-level oversight of water issues, just 31 per cent have incentives in place for C-Suite executives.
"The world is not on track to meet our global water goal of ensuring access to sustainable water and sanitation for all," said Cate Lamb, director of water security at CDP. "The companies reporting to CDP are responsible for a huge proportion of global water use and pollution. While many of their practices and procedures currently contribute to the depletion of freshwater resources, these companies could also hold the key to a water secure future. This transition is full of possibility and opportunity – to succeed, those companies that affect our water, must work to protect it."
Retail performs worst out of all the sectors analysed in the report. With only 28 companies disclosing out of the 117 requested, retail is the least transparent of any sector, outstripping fossil fuels for the first time in nine years. Retailers also perform badly on risk assessment and governance & strategy. Only 36 per cent of companies publish a water policy and only 32 per cent undertake comprehensive assessments of the risks they may face.
With revenues anticipated to reach US$28 trillion this year, this sector is more powerful than ever. Made up of companies near the top of the agricultural value chain, the retail sector has the potential to drive substantial improvements in water performance in meat manufacturers, crop growers, and dyehouses around the world.
The Canadian Water Summit is hosting a session on Progress through Partnerships: Towards Achieving Sustainable Development Goals on May 30, 2019. Click here for more information.