The Municipal Infrastructure Group Ltd. (TMIG) was presented with an award of excellence for its Elm Drive stormwater management retrofit project in Mississauga at the Consulting Engineers of Ontario (CEO) Awards Gala on April 20. The annual soiree awards innovative engineering projects in Ontario that focus on social, economic, and environmental betterment within a community.
The Elm Drive project, a partnership between Credit Valley Conservation (CVC), the Peel District School Board, and the City of Mississauga, focused on innovative stormwater runoff management. Using permeable pavements and bioretention cells on site, the project captured, filtered, and cleaned runoff before allowing it to slowly drain into a nearby creek.
Phil James, water resources engineer at CVC, said "the Elm Drive project is a true testament of the advantages of innovative stormwater management techniques to treat rain and runoff close to source. This project demonstrates practical ways that LID can be used to revolutionize the way we think about implementing new infrastructure."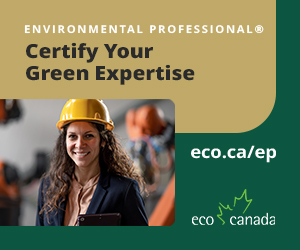 "To be recognized by the CEO for our involvement is a great achievement, as this award demonstrates our dedication to the industry and our initial objective to build a revolutionary design that is not only aesthetically pleasing, but highly functional," said David Ashfield, TMIG's lead designer for Elm Drive.