On June 28th, Tay Township, Ontario, held a ribbon-cutting ceremony to acknowledge the completion of upgrades to the Victoria Harbour Wastewater Treatment Plant.
Construction began in May, 2016, and wrapped up this month, marking the first significant upgrade to the Victoria Harbour Wastewater Treatment Plant since it was originally constructed in 1982.
Phase 1 included construction of a new headworks building, installation of two ultraviolet disinfection units, replacement of a sand filter, and introduction of a new standby power generator.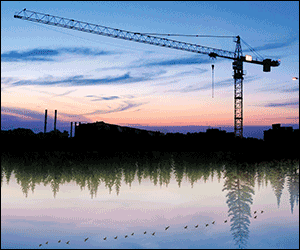 The upgrades were made to improve reliability and overall plant capacity. "The new headworks building will help reduce costs related to pump and mechanical equipment maintenance, as it removes debris and grit from the incoming wastewater stream," said Peter Dance, director of Public Works, "The addition of the UV disinfection system will also reduce costs and improve the environment as it eliminates the need to chlorinate the treated effluent flowing into Severn Sound."
In addition to addressing plant operational issues, the $8.1-million project implemented capacity upgrades to meet wastewater treatment demands resulting from future growth in Tay Township. "The introduction of two cloth filters allows the plant to efficiently treat more wastewater, and the new standby power generator ensures the plant can remain operational during power failures," said Dance.
In the township's 2017 operating budget, $500,000 has been allocated to Phase 2 design for the Victoria Harbour Wastewater Plant.