Surrey, B.C. continues proactive measures to mitigate sea level rise in anticipation of changes through 2200 with a coastal flood adaptation strategy.
"While the coastal flooding threat is not imminent, it is predicted that the sea level will rise by one metre in 2100, and two metres by 2200, which is why the time to plan is now. Surrey has taken a leading position to proactively advance efforts aimed at increasing community resiliency, safety, and health," said the City.
Presently, Surrey is undergoing phase 3 of its Coastal Flood Adaptation Strategy (CFAS). The Strategy is a participatory, community-driven planning approach to exploring the impacts of climate change on Surrey's coastline, and the long-term adaption options available to the city.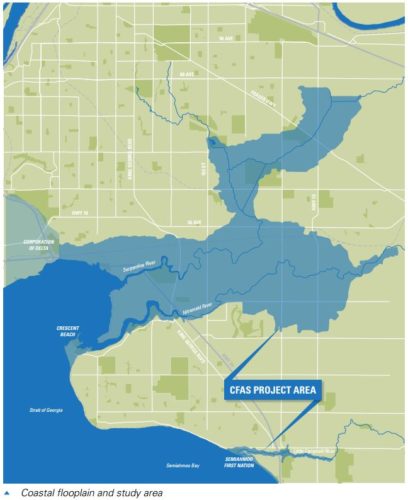 "The complexity and cost of coastal flood protection issues are significant," said Mayor Linda Hepner. "By getting ahead of the issue, and setting a direction now for where we want to be in 100 years, we are positioning Surrey to make smarter investments in the protection of residential neighbourhoods, businesses, significant habitat areas, and provincially critical infrastructure."
Following a year-long consultation to understand community values and concerns, the three-year project is now completing it's the third phase where several options are being evaluated on technical, social, cultural, and ecological criteria. Following, a small number of robust, broadly supported adaptation strategies will be refined based on cost, funding, and partnerships.
The latest work being done with CFAS examines the potential solutions for Mud Bay. A public survey and further round of engagement ,which will inform the project's final recommendations has been launched to obtain feedback on a range of options from a mega engineering project to managed retreat. The public is encouraged to participate and contribute their ideas by completing this survey.
Currently, the City of Surrey manages the largest flood control system (dykes and sea dams) in British Columbia. However, these historic drainage controls were not designed to protect its coastline from the forecasted climate change.
Cover Image Credit: City of Surrey.