In Deer Lake, Newfoundland and Labrador erosion of the banks of the Humber River are causing concern for residents and municipal water and sewer infrastructure.
While water levels have been slowly dropping in both the Humber River and Deer Lake, there has been significant, ongoing concerns over two local roads. And over the weekend, Pine Tree Drive worsened with a utility pole falling due to the erosion. Newfoundland Power arrived on Monday to put in new poles on the opposite side of the road.
Operating crews prepare to move poles and power lines to the opposite side of Pine Tree Drive. Notice the leaning pole; compromised by the moving land beneath. #cbcnl #nlwx pic.twitter.com/IZjMKbz3oL

— Colleen Connors (@colleencbc) January 22, 2018
Residents were informed that the Town has a volunteer evacuation plan in place, as there are four houses in jeopardy due to the riverbank erosion along Pine Tree Drive.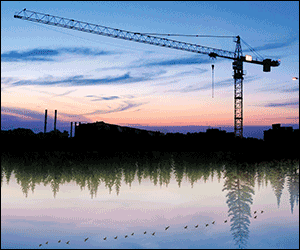 "We're within single-digit numbers, seven, eight feet from water and sewer lines here now," Mayor of Deer Lake Dean Ball told the CBC on Monday. "One major slippage could take that out. If the water and sewer gets taken out of this street by another landslide, that will then impact whether people stay or go."
Provincial and local officials have determined that water is flowing beneath the ice obstruction that stretches across the mouth of the Humber River to the St. Jude's area of the lake. Discussions were held on how to remove or disperse the ice obstruction but no decisions were made, and it was decided that officials will continue to monitor the situation.
Land slipping away more and more each day on Pine Tree Road in Deer Lake. #nlwx pic.twitter.com/pBXIxoNU6H

— Colleen Connors (@colleencbc) January 22, 2018
"The challenges have been much easier to face given the strong support we have received from various provincial government departments and agencies," said Mayor Ball in a statement.
Last Friday, Premier Dwight Ball met with town officials and councillors to discuss the situation.
Meanwhile a Public Works crew from the Town of Deer Lake started putting in a bypass road, using a road reserve to provide residents with an alternative means of getting out of the Pine Tree Drive area. The Canadian Red Cross has been kept up to date and The Emmanuel Pentecostal Church is available in the event an evacuation is ordered.