This week, the Government of Canada unveiled plans for a new $77.8 million research program, led by the University of Saskatchewan with more than 380 Canadian university researchers involved, called the Global Water Futures Programme.
Professor John Pomeroy, the associate director of the Global Water Futures Programme explains the vision of the new research network and why it's needed.
"Global Water Futures (GWF) is a newly announced $143 million research program funded by the Canada First Research Excellence Fund, several universities and industry. GWF's overarching goal is to deliver risk management solutions—-informed by leading-edge water science and supported by innovative decision-making tools—–to manage water futures in Canada and other cold regions where global warming is changing landscapes, ecosystems, and the water environment.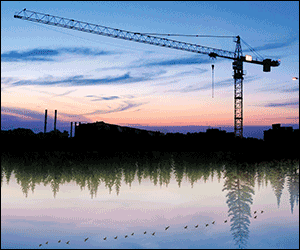 End-user needs will be our beacon and will drive strategy and shape our science as we focus on three main goals:
Deliver new capability for providing disaster warning to governments, communities and the public, including Canada's first national flood forecasting and seasonal flow forecasting systems, new drought warning capability, and water quality models and monitoring that warn of hazards to health and drinking water supply;
Diagnose and predict water futures to deliver improved scenario forecasting of changing climate, landscape and water for the future, with information outputs tailored to the needs of users. This will enable us, for example, to assess risks to human health from changing flood, drought and water quality; and
Develop new models, tools and approaches to manage water-related risks to multiple sectors, integrating natural sciences, engineering, social and health sciences to deliver transformative decision-making tools for evidence-based responses to the world's changing cold regions. New models will define changing risk from floods and drought, and allow end-users to plan sustainable infrastructure investment to manage future risk.
Why do we need GWF?
Canada and the world have record shrinking glaciers, melting permafrost, reduced snow cover, increased floods and droughts, and degraded water quality at the same time as our demands on water are increasing. With the GWF programme, we can address these problems. Supported by new sensors, drones, nano-satellites, instrumented watersheds, computer models, and unprecedented data, we will better understand and forecast water disasters, supply and quality. Through better prediction, we will reduce the damages from extreme weather events, like floods, droughts and wildfires. And we will unravel the social, health, environmental, political and economic implications of changes to our water.
There are three main components to the outcomes from GWF over the next seven years.
Improved disaster warning. Currently, we lack the scientific knowledge, monitoring and modeling technologies, and national forecasting capacity to predict the risk and severity of potentially catastrophic events in Canada. These knowledge gaps and technology barriers have resulted in significant loss of life and property in recent years. GWF will create Canada's first national water disaster warning system by creating robust forecasting tools capable of warning stakeholders of impending floods, seasonal water flows, droughts and water quality. Apps, underpinned by our models created in other pillars, will be developed to deliver these systems in a user-friendly manner. These solutions will save lives and infrastructure and provide operational efficiencies to stakeholders and industries such as water managers and hydropower companies.
Predicting water futures. The world lacks water data on a scale to make informed decisions, and we cannot forecast future climate impacts without better models to assess changes in our human/natural land and water systems. These limitations create risks for water supplies, water quality and sustainability. Though a comprehensive research program that integrates multiple disciplines, GWF will establish a more holistic understanding of our changing climate, land, water and ecosystems. This expansive knowledge will create more robust mathematical models that will increase accuracy of our future predictions of water quantity and quality, as well as landscape and ecosystem change for all major Canadian river basins, allowing for scenario modeling of land and water futures. Apps and software that incorporate these models will be developed with the end user in mind for integration into daily decision-making.
Adapting to change and managing risk. Nationally and globally, we lack the governance mechanisms, management strategies, and policy tools needed to reduce the risk of water threats, design adaptive strategies to cope with uncertainty, and take advantage of economic opportunities that arise as change unfolds. GWF will provide decision-makers in government and across industries and agriculture the necessary risk-management models tools to make evidence-based decisions that result in optimal socioeconomic outcomes. These scenario-based tools will be informed by our trans-disciplinary research program and will be customized by sector.
For example, GWF will provide government with evidence and guidance on adaptive governance; Indigenous communities with decision-making tools to adapt to changing water quality; urban communities with evidence to adapt and respond to flood risk; agriculture with tailored weather inputs for precision farming and tools for beneficial management practices; industry with guidance on risks and sustainability, and tools to better assess and manage water and environmental risks and liabilities.
Canada has long been known as the water country, and with GWF we will be known as the water solutions country."
Details on the funding announcement and universities involved are described here
Dr. John Pomeroy is a Canada Research Chair in Water Resources and Climate Change and also the director of the Centre for Hydrology.