BluMetric Environmental Inc., an Ottawa-based cleantech company involved in water resource protection and rehabilitation, announced revenue of $7.4 million and net income of $70,000 in the unaudited results for its third quarter ended June 30, 2017.
Financial Highlights
Year-to-date revenue is $22.9 million, a reduction of 5 per cent compared to $24.2 million for the nine months ended June 30, 2016.
Revenue for the quarter decreased 11 per cent to $7.4 million compared to $8.4 million for the quarter ended June 30, 2016. Water systems revenue of $2.2 million showed a decrease of $600,000. The decline in the water systems revenue can be mainly attributed to the length of the sales cycles for new engineered solutions projects.
Gross margin decreased slightly to 19 per cent compared to 22 per cent for the same quarter in fiscal 2016, mostly arising from lower margins in Professional Services, offset slightly by improved margins in water systems. Year-to-date gross margin is 21 per cent, slightly lower than 22 per cent for the previous year.
Operating costs were down slightly to $1.2 million from the same quarter in the prior year at $1.3 million.
Net income for the quarter was $70,000 compared to a net income of $371,000 for the same quarter in fiscal 2016. In the nine-month period, net income was $388,000 compared to $675,000 in the previous year.
EBITDA (a non-IFRS measure calculated as net income before interest expense, income taxes, depreciation, and amortization) in the quarter decreased to $337,000 from $698,000 for the same quarter in fiscal 2016, and in the nine months of 2017 decreased to $1.2 million from $1.7 million in the same period in the previous year.
Operational Highlights and Outlook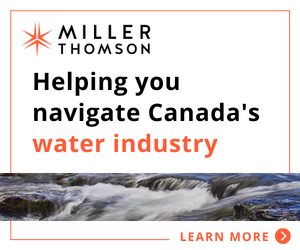 Business development activity in both water systems and professional services has been significant in the company's major target areas:  Military; Food, Beverage, & Agriculture; Mining; and Development, with new contracts signed both in Q3 and post quarter end.
The company has aligned its research and innovation and commercialization efforts to ammonia reduction processes.
Subsequent to the end of Q3, BluMetric won two new contracts in excess of $1.0 million in Central America.
BluMetric has conducted projects with the Raisin Region Conservation Authority and South Nation Conservation Authority to ensure source water protection. The company also worked to rehabilitate Lake Heney in the Gatineau area.