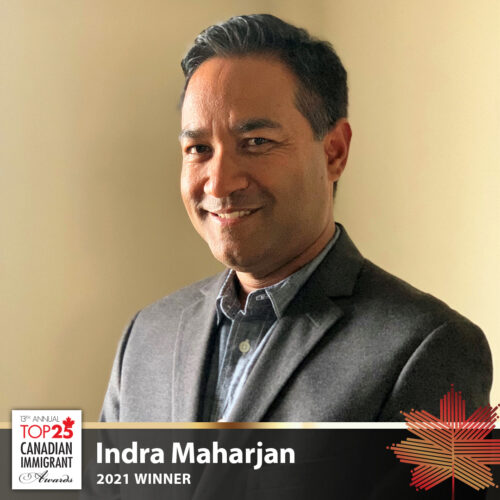 Indra Maharjan—director of innovation, technology, and alternative delivery at the Ontario Clean Water Agency (OCWA)—has been named one of Canada's top 25 immigrants by Canadian Immigrant.
"From time to time, many of us immigrants question our decision to immigrate to this unknown country," said Maharjan, when asked about what the top 25 award means to him. "This award is a testament to the fact that we made the right call and all the risks we took were worth it."
Currently, Maharjan fosters the adoption of solutions that address emerging issues (e.g., treatment, digitization, compliance, etc.) in the water and wastewater industry. He also works with technology providers and municipalities to undertake projects that reduce energy usage, costs, and greenhouse gas emissions. Maharjan's expertise and leadership are well recognized by leaders in the water and wastewater industry.
"Honestly, you can't measure the impact Indra is making on our industry," said Robert Haller, executive director of the Canadian Water and Wastewater Association (CWWA). "He brings an entirely new and open mind to everything, but more importantly, with his enthusiasm, he is opening the minds of others to innovation. He is a natural leader who shares his passion for the planet with everyone he meets and inspires us all to think bigger. Through his work with Ontario Clean Water Agency, he is introducing innovative thinking across Ontario. While volunteering with CWWA, he is inspiring national discussions on energy and climate change. Indra seems to live to make Canada, and the world, a better place."
"Indra is one of the most passionate and dedicated people I have ever met," added Gail Jaremy, chief administrative officer/clerk for the Township of Hornepayne. "His commitment to finding and implementing innovative green energy solutions to help mitigate the effects of climate change in the water and wastewater field is admirable. Always willing to listen, Indra values input and engages others in the conversation rather than leading from the top down. Yet, he is always ready to provide support and expertise when required. His gentle demeanor only adds to his personable temperament.  All this, added to his great communication skills, make Indra the person you want on your team."
Earlier this year, Maharjan received the Government Leader award at the virtual celebration of the 2021 Water's Next Awards. View his award profile here.