The Government of Newfoundland and Labrador is enhancing community partnership and water level monitoring on the lower Churchill River by installing new monitoring stations and initiating a Community River Watch Program.
Seven new water level and climate monitoring stations have been activated in the Churchill River watershed and three new stations will be activated in summer 2018. "We have taken the guidance of the independent assessment and have increased monitoring capacity on the river," said Eddie Joyce, Minister of Municipal Affairs and Environment.
These enhancements build on the guidance provided in the report from the independent assessment of the flooding at Mud Lake in May 2017.
The Provincial Government will use these stations to monitor water and ice levels and use the data for flood forecasting and alerts along with data from satellite imagery and web cams. Real-time data information from these stations is available on the Department of Municipal Affairs and Environment's website at www.mae.gov.nl.ca/waterres/flooding/lc_flood_warning.html. The Churchill River is located in the Labrador portion of Newfoundland and Labrador and flows from the Smallwood Reservoir into Lake Melville, draining an area of approximately 94,000 km2.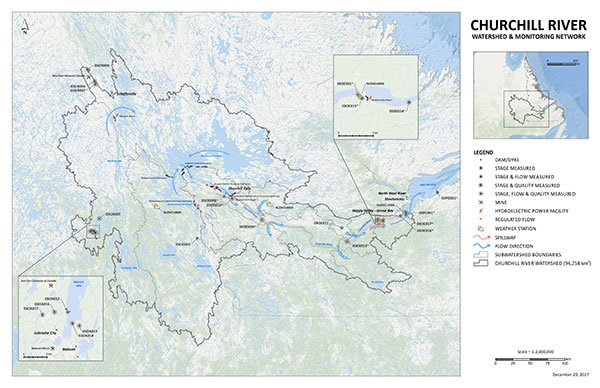 In addition, a community-driven monitoring program has been initiated with residents of Mud Lake and Happy Valley-Goose Bay who will play a valuable role in monitoring and managing potential flood impacts. Data collected will determine responses to floods, rising water levels, and potential mitigation measures.
"We look forward to engaging with local and long-time residents on this program and welcome their critical input as we all work together to keep everyone safe," said Joyce.