Simcoe, ON—The Nature Conservancy of Canada (NCC) is announcing the protection of 20 hectares of wetland and forest habitat in the Big Creek watershed in Norfolk County. This new property supports swamp forest and sand plain forest habitats, which define the Carolinian Life Zone in Canada, and has open agricultural fields that will be restored to native habitat. Though this zone only makes up 1per cent of Canada's landmass, its ecosystems support more plant and animal species than anywhere else in Canada.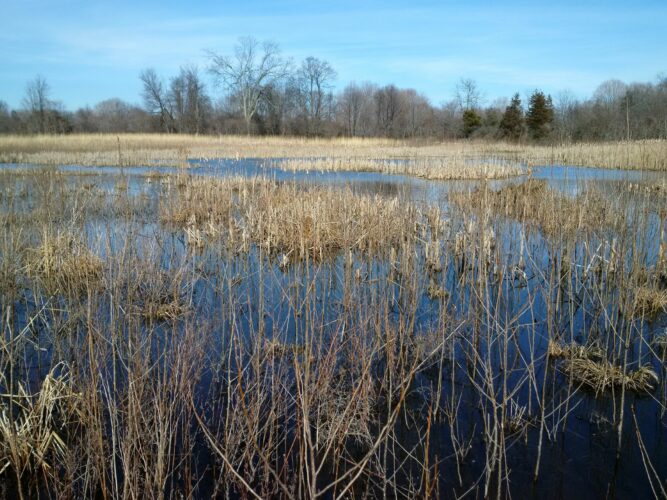 This area was identified as a priority for conservation due to its proximity to existing protected lands, its high-quality natural habitat, the presence of rare and endangered species and its potential for ecosystem restoration. It is important for migrating waterfowl seeking food to fuel their journeys and safe places to rest. NCC will enhance the wetland retention on the property by breaking up drainage tile and re-creating topography by moving soil and creating depressions and mounds to mimic a natural inland wetland.
Before restoring habitats across the landscape, staff will consult historical aerial photographs to see where water settled on the land. Increasing the property's water retention capacity will contribute to a better natural management of spring thaw and rain events. Slowing the water's flow toward Lake Erie will also allow it to cool and leave behind nutrients that could otherwise contribute to declining water quality in the Great Lakes.
"This property provides an excellent opportunity for targeted restoration to aid in the global biodiversity crisis, while also helping to improve water quality flowing into Lake Erie," said Kristen Bernard, NCC program director for southwestern Ontario. "We have lost over 70 per cent of wetland habitat in southern Ontario, so we are excited to get to work on restoring this property to its natural state so that vulnerable species can thrive."