Ottawa – On May 5, 2023, the World Health Organization determined the current COVID-19 situation no longer constitutes a Public Health Emergency of International Concern (PHEIC), however the Government of Canada recognizes that the SARS-CoV-2 virus is still circulating across Canada and worldwide.
The Public Health Agency of Canada (PHAC) continues to use innovative science and research to inform the sustainable approach to the ongoing management of COVID-19 in Canada by investing in wastewater monitoring across the nation.
The Honourable Jean-Yves Duclos, Minister of Health, has announced that Canadian Water Network (CWN) is receiving funding from PHAC's National Wastewater Surveillance Program to develop a proof-of-concept pilot project with the goal of advancing wastewater monitoring in Canada. Through this pilot project, CWN will work directly with public health practitioners in British Columbia, Manitoba, and Ontario, and in Indigenous communities to develop training and guidance materials. By translating the most up-to-date science and research and consolidating expertise, this investment will help public health authorities, communities, government agencies, and researchers to successfully interpret and communicate COVID-19 wastewater monitoring data. Through this, we will be better equipped to monitor and mitigate health and societal impacts of the virus.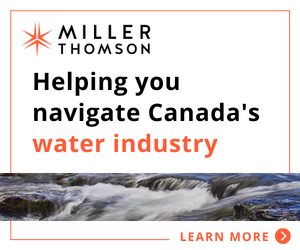 Testing a community's sewage (wastewater) can help determine if COVID-19 is increasing or decreasing in a community and provides information on the variants circulating within a community. People can also use wastewater trend data to inform their decisions about personal protective measures when going out into their community.
Indigenous Services Canada is also supporting this project by providing public health expertise and additional funding to improve the interpretation and communication of COVID-19 wastewater monitoring data for public health officials.
CWN is a non-profit organization and a leader in the rapidly evolving field of wastewater monitoring across Canada. The organization helps decision makers in the water sector address complex challenges, and strives to advance, accelerate, and improve water management decisions in Canada.
The National Collaborating Centre for Infectious Diseases (NCCID) is serving as a strategic partner in delivering this project with CWN. NCCID is dedicated to helping public health practitioners find, understand, and use infectious disease research and evidence.
"COVID-19 continues to circulate in Canada and around the world and investing in wastewater technology is helping us better monitor its impacts. The work of CWN will support wastewater monitoring through important training and guidance materials and will equip even more communities and authorities to communicate wastewater data to help keep Canadians healthy and safe." –The Honourable Jean-Yves Duclos, Minister of Health
"The use of wastewater monitoring during the COVID-19 pandemic represented a breakthrough in popularizing an effective public health tool to track and communicate vital infectious disease information to Canadians. With support from Public Health Agency of Canada, Canadian Water Network and the National Collaborating Centre for Infectious Diseases are helping public health practitioners to further their expertise at applying this cost-effective technique and expand its use to other infectious diseases." –Nicola Crawhall, Chief Executive Officer, Canadian Water Network (CWN)
Quick Facts
On May 5, 2023, the World Health Organization announced that COVID-19 is now an established and ongoing health issue and no longer constitutes a Public Health Emergency of International Concern (PHEIC).
The Public Health Agency of Canada is continuing to collaborate with other federal departments, provincial, territorial, municipal and Indigenous governments and academia across Canada to compile wastewater data into the COVID-19 wastewater surveillance dashboard. The dashboard will continue to be expanded to provide additional data to people in Canada, including additional cities.
Since wastewater testing is different than clinical testing to diagnose active COVID-19 infections, it provides an additional, independent measure of community transmission.
The Government of Canada has committed $28.1 million since May 2020 to establish, expand and enhance the pan-Canadian wastewater surveillance program.
Canadian Water Network is receiving approximately $300,000 over 15 months from PHAC to develop a proof-of-concept pilot project with the goal of advancing wastewater monitoring in Canada.
As part of the project, CWN is receiving advice from a Wastewater Surveillance Experts Group whose members include Dr. David Patrick (Director of Research at the BC Centre for Disease Control), Dr. Doug Manuel (Professor in the School of Epidemiology and Public Health at the University of Ottawa), Dr. Wendy Pons (Professor of Environmental Public Health at Conestoga College), and Dr. Michael Becker (biologist at the National Microbiology Laboratory, PHAC).
PHAC scientists, along with their Canadian academic and provincial/territorial partners, are leading the way on wastewater monitoring based on its growing use during the COVID-19 pandemic. This knowledge has also helped scientists study the presence of other diseases in wastewater, including antimicrobial resistant organisms, mpox (monkeypox), respiratory syncytial virus, and influenza viruses.
For information about how scientists from Canada's National Microbiology Laboratory are advancing the science of wastewater testing please read: Harnessing the power of wastewater testing to detect COVID-19 outbreaks and Community-led wastewater testing in northern, remote and isolated communities