Ducks Unlimited Canada (UDC) is honouring National Invasive Species Awareness Week, February 26th to March 2nd, by elevating the stories of conversation success in combating invasive species.
"Winning the battle against invasive species takes science, engineering and people who are committed to pitching in on the ground," said Karla Guyn, chief executive officer for DUC. "We've developed some pretty creative approaches to deal with the challenges, and we're seeing some impressive results."
One conservation sojourner that DUC highlighted is Lilly Auty. Last summer, Auty participated in Ontario's Invasive Species Awareness Program. During the course of the program, Auty helped reduce the presence of European water chestnut from the eastern shorelines of Lake Ontario by almost 82 per cent.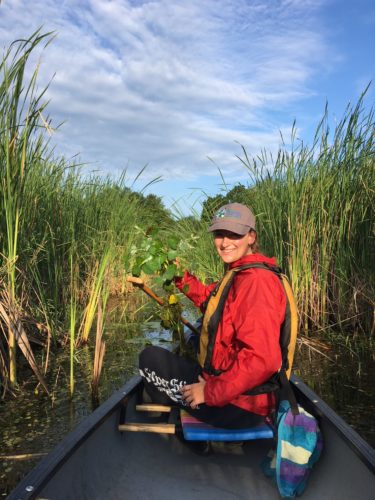 "We started going out in the boat in early June," said Auty, "and once the plants started coming up, it was fascinating to see just how dense the patches got and how quickly they would outcompete the other species around it."
Globally, invasive species pose one of the greatest threats to biodiversity, second only to habitat loss. Environment and Climate Change Canada states that the impact of invasive alien species on native ecosystems, habitats and species is severe and often irreversible, and can cost billions of dollars each year.
DUC helps to manage many invasive species in Canada's ecosystems, such as:
European water chestnut (Trapa natans)
Common carp (Cyprinus carpio)
Leafy spurge (Euphorbia esula L.)
Common burdock (Arctium minus)
Purple loosestrife (Lythrum salicaria)
European Common Reed (Phragmites)
Spartina (Spartina anglica, Spartina densiflora, and Spartina patens)
Parrot's feather (Myriophyllum aquaticum)
Scotch broom (Cytisus scoparius)
Learn more about their activities by visiting DUC's website.