Most of Alberta's 3.6 million residents rely on regulated water systems. But, according to Brent Paterson*, a significant number of Albertans still use water from unregulated groundwater or dugouts. Nearly 700,000 Albertans rely on holes or dammed gullies filled with snowmelt and runoff for year-round supplies for their home, farm, and livestock needs.
Paterson is executive director of Alberta Agriculture & Rural Development's irrigation and farm water division. "By all standards, dugouts do not supply good water," he says, adding that runoff issues, such as nutrient loading, can affect the water quality, and it's up to the resident to properly treat and manage this water.
Largely ignored in the past, water for rural development and residents is now a major concern for the Province. In recent years, the government has designed a number of programs to help rural residents, especially food producers who depend on water for their operations. "Water is critical to these people," says Paterson. "It's their very livelihood."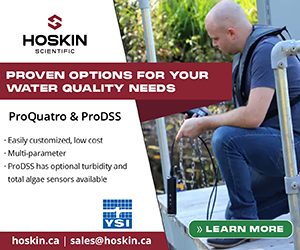 For areas that don't have access to groundwater, the Alberta government has helped to develop water hauling stations. But in some cases, it still means many people have to travel 40 to 50 kilometres (km) each way for access to water. In August 2011, the Province announced a three-year, $1-million grant for developing new or expanding existing hauling stations to help improve access to water and reduce the time needed to get it. Eligible municipal districts and counties could apply to receive a share of this grant funding up to a maximum of $70,000 per qualified project, within annual funding limits. Funding for each project is provided on a cost-shared basis of 90 per cent from the province and 10 per cent by the county or municipal district.
Adding to concerns around contamination and hauling is a changing climate. Over the last several years, Alberta's Peace Region has been significantly impacted by drought, which has created serious—and expensive—challenges for producers and rural residents to access sufficient water for domestic and livestock purposes. In extreme cases, farmers may have to consider losing their livestock.
"Many years ago, the northern part of the province was considered the wettest part," Paterson says. "The concern used to be how to deal with excess water. With the drought, we've seen a change. Excess and even sufficient water for crop production, dugout areas, or replenishing groundwater just isn't there."
Paterson says that, in addition to the water hauling expansion program, there's an emergency pumping program to help farmers fill their dugouts. That won't, however, solve the problems caused by  extended droughts. "Even the good water supplies simply aren't there," he says. "The distance we'd have to pump is beyond the capacity of our equipment. The potential impact of drought on rural residents could be quite significant."
Needless to say, Alberta Agriculture & Rural Development is looking at amending the Province's long-term water strategy. "There's a recognition that the traditional methods and short-term plans of the past aren't going to be the plans we need in the future," says Paterson. "One of our province's key objectives is rural development, and water is a cornerstone. Without it, it's simply not going to happen."
Paterson says that rural water pipelines are part of a long-term strategy. "We're looking at bringing water from reliable sources in the north (for example, the Peace River) and hundreds, if not thousands, of metres of pipelines to supply water to rural residents. It's not a small area; we're talking about a large program."
For the Peace Region, the government is looking at 2,000 to 3,000 km of pipeline at a cost of about $100 to $200 million. "Long-term, it's not a cheap program and certainly not something we're going to complete in one or two years," says Paterson. Finding the water source is going to be a major challenge, he adds, but it's a direction Alberta will have to pursue.
Under its Water for Life strategy, Alberta spends about $200 million per year on water support programs. While most of it is earmarked to improve water and wastewater facilities, some of the money is going toward regionalizing systems and consolidating pipelines. Currently, around 175 rural water pipeline cooperatives support rural residents. The technology isn't new, says Paterson, and the government is exploring moving into a larger scale for the long term.
How does pipeline consolidation work with Alberta's water rights system? "There are sufficient water rights in most of the province—it's simply a matter of transferring them," says Paterson. "We run into a challenge in the South Saskatchewan, Old Man, and Bow Rivers, however, which have been closed to future allocation. In those cases, if new water licenses are required, they need to be purchased or obtained from existing holders. We have a good program for trading water rights, but it's still going to be a challenge."
Alberta Environment and Water will look for public input over next few years to determine how the Province best move forward on water allocation.  WC
Kerry Freek is the editor of Water Canada.
Prairie dugouts experience several water quality problems, including elevated levels of dissolved organic matter; the presence of micro-organisms including algae (both green and potentially toxic blue-green algae); elevated turbidity levels, which vary and are generally related to organic matter and the amount of sediment in runoff; and levels of dissolved organic carbon in dugouts which are about five times higher than in most surface water supplies used by urban communities across North America. —With files from Agriculture and Agri-Food Canada
*Brent Paterson will be part of the Canadian Water Summit, which this year focuses on the water-food-energy nexus. The Summit takes place in Calgary on June 28.