The federal government delivered its 2016 budget on World Water Day. Tabled on March 22, 2016, it included welcome water-related commitments, including funding to rebuild freshwater science capacity, address Great Lakes phosphorus loadings, and ensure clean drinking water in indigenous communities. However, the main focus was on infrastructure.
The government's infrastructure plan includes $5 billion for investments in water, wastewater, and green infrastructure projects to support Canada's "ongoing transition to a clean growth economy." Of this, $2 billion over four years is earmarked for a new Clean Water and Wastewater Fund. Additionally, the Federation of Canadian Municipalities will receive $50 million for a new capacity-building fund to support asset management best practices, along with a reinvestment in Green Municipal Funds and a new program to help local communities address climate change.
The framing of these funding commitments is important. The budget noted there is "an urgent need in many Canadian communities to modernize water and wastewater infrastructure" and committed the government to "seek out new partnerships on innovative green infrastructure projects and capacity-building programs." It's also worth noting that clean technology has been a major focus of the government's climate change agenda.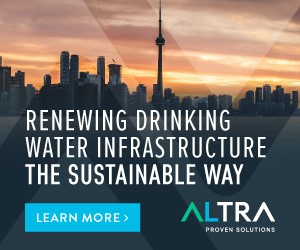 The budget priorities are also consistent with the pre-budget messaging that emphasized "investment" rather than "spending." The new asset management planning program is offered in the context of helping smaller communities in particular achieve longer-term planning, support strategic investments, and maximize the use of public dollars. The early stages of the plan also indicate investment in existing infrastructure. It's exactly the right direction—we need to invest in the non-capital projects and training that will deliver savings in the form of deferred (or completely avoided) capital spends. And we need to make investments in the innovative approaches and technologies that will deliver the services that we need for generations to come.
Setting a high bar
Other jurisdictions are quickly moving to set modern expectations for water efficiency and reuse, net zero energy use, and enhanced resource recovery. To realize the opportunity for improved water management and the economic benefits of a successful water technology sector (and the jobs that will result), Canada's water sector must play a leadership role in helping shape and actively support a progressive water agenda. We can do this by demonstrating what's possible and asking the government to set a high bar for public investments and regulatory requirements.
The new funding is characterized as "an immediate down payment" on longer term commitments, and it should be designed as a bridge to environmentally and financially sustainable systems. Infrastructure funding programs should set conditions on funding to require municipalities have a strategic asset management plan in place and implement optimization programs like composite correction. New strategic support for asset management planning could help smaller municipalities in particular uncover options that can save them money in the long run.
Good data will be critical to identify opportunities for optimization, for comparing relative performance, for setting expectations, and for quantifying the financial and greenhouse-gas-reduction benefits of new approaches. Interestingly, there is also a commitment in the budget for Infrastructure Canada to work with Statistics Canada "to improve infrastructure-related data. This will support better information on the state and performance of core public infrastructure assets for all levels of government."
Canada is home to a thriving water sector. Not only can it contribute to solving the country's water challenges, it can bring those solutions to the world and create jobs in the process. Let's prove investments in water innovation and technology are sound economic investments and a path to modern and truly sustainable infrastructure.