It's no secret that wastewater treatment plants consume a significant amount of energy and that they contribute significantly to the total amount of greenhouse gas (GHG) emissions emitted in Ontario.
In a 2017 report, the Environmental Commissioner of Ontario notes that "municipal water and wastewater systems account for 32 per cent of reported municipal GHG emissions; almost half of that comes from energy-intensive sewage treatment."
The Environmental Commissioner of Ontario also notes that this number doesn't represent the true amount of GHG emissions since GHG emissions from wastewater, like methane, are typically understated or not reported.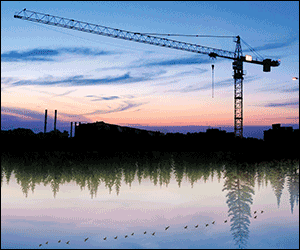 Municipalities are starting to realize that status quo can't continue since they are becoming more aware that GHG emissions are leading to the greenhouse effect, which is what is ultimately leading to global warming. This awareness has led a number of towns and cities in Ontario—like Stratford, Toronto, Kingston, and Hamilton—to declare a climate emergency.
There's an opportunity for municipalities to reduce GHG emissions at wastewater treatment plants (WWTPs) by increasing energy efficiency and/or capturing the energy generated by wastewater so that it can be reused on site. An alternative approach is also available, which is that municipalities can reduce reduce GHG emissions by diverting organic waste from landfills to wastewater treatment plants. This is so that the organic waste can be co-digested to produce biogas.
This is where the Ontario Clean Water Agency's (OCWA) and Ontario Water Consortium's (OWC) Municipal Co-digestion Initiative comes in.
The Response: Municipal Co-digestion Initiative
To promote the diversion of organics and reduction of GHG emissions, among other objectives, OCWA and OWC launched the Municipal Co-digestion Initiative in 2016.
"The initiative has brought municipalities, industry stakeholders, utilities, and regulators together to shape policy, programs, and projects," says Indra Maharjan, director of innovation, technology, and alternate delivery at OCWA.
So far, the City of Stratford, Town of Petawawa, and City of Cornwall are engaged in the Municipal Co-digestion Initiative. Each municipality has had its own specific reasons for joining the initiative.
"Stratford is an innovative municipality and it's always looking for ways to innovate and reduce costs," says Maharjan. "This project stemmed from energy conservation efforts in WWTP starting 2013. We then explored utilization of biogas as means of GHG reduction and identified multiple co-benefits of larger project with inclusion of co-digestion."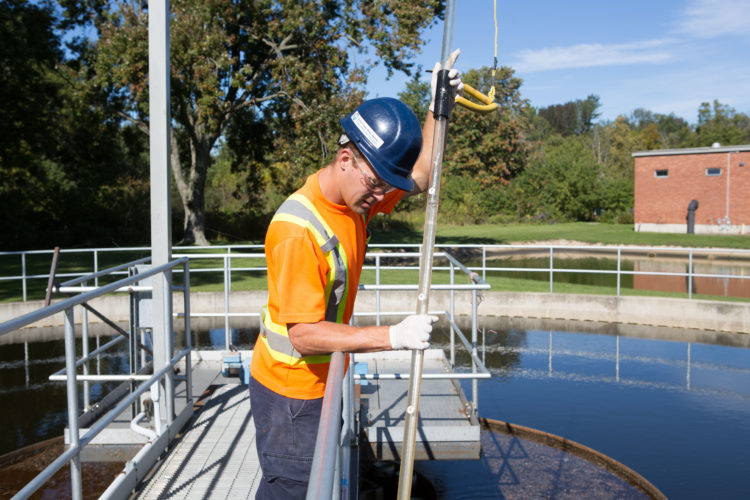 Stratford's involvement in the Municipal Co-digestion Initiative is helping the City make progress on its strategic priorities. "One of the Strategic Priorities for the City of Stratford is developing our resources, which includes planning a sustainable future for Stratford's resources and environment," says Ed Dujlovic, director of infrastructure and development at the City of Stratford. "The co-digestion project has been identified as a project that will assist in achieving the City's goal for this priority."
The Town of Petawawa is also one of the municipalities that has been engaged in the Municipal Co-Digestion Initiative. "The main drivers for the Town of Petawawa project are the willingness of council to explore alternative energy sources, the funding made available from FCM and LCEF, and finally the excess digester capacity," says David Unrau, director of public works at the 
Town of Petawawa.
At the same time, Unrau notes that undertaking a co-digestion project requires a paradigm shift for municipalities. Instead of thinking about WWTPs as a cost centre, municipalities can start thinking about a WWTP as something that can be cost neutral or as something that can generate revenue.
"Traditionally, municipalities are risk adverse and these types of projects need strong leaders to champion the change," says Unrau. "Key partnerships with OCWA and other utilities bring access to strong diverse team and overcome the many challenges presented. The Town of Petawawa has all these ingredients and is excited to present the final business case to Council for its consideration."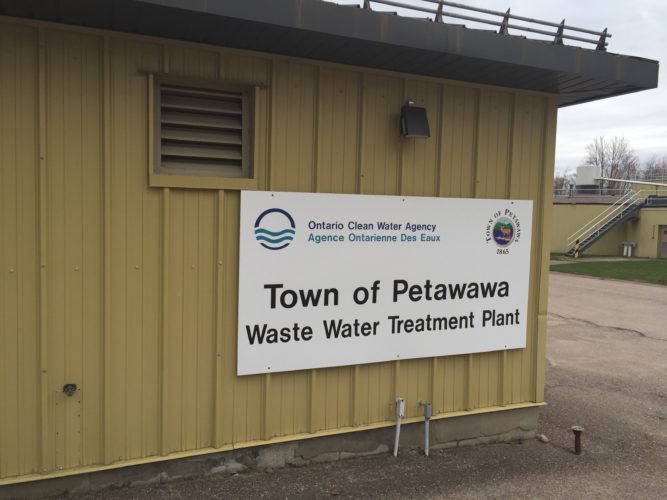 A third municipality that's engaged in the Municipal Co-Digestion Initiative is the City of Cornwall. In Cornwall's case, municipal co-digestion came up during discussions about what net zero means and how its wastewater treatment plant could contribute to the UN's Sustainable Development Goals.
"The plant sees that solar energy to create food and the plant takes the result of that process through food waste and sewage turning it into energy that displaces non-circular energy and puts the remaining waste biosolids back into the ground as being an inspiring project," says Carl Goodwin, director of environmental services at the City of Cornwall. "Transforming a WWTP into a net zero resource recovery facility through co-digestion can be achieved working with strong partners like OCWA and other utilities."
Regulatory requirements to consider for municipal co-digestion projects
Before Stratford kicked off its project, it had a number of regulatory requirements to consider because it was planning on importing outside organic wastes for co-digestion at its WWTP. In particular, Stratford needed to follow the Municipal Class Environmental Assessment (Class EA) and it needed a comprehensive Environmental Compliance Approval.
To move the project forward, Stratford submitted a single comprehensive Environmental Compliance Approval application that included the following components:
Environmental Compliance Approval (Waste Disposal Site).
Environmental Compliance Approval Amendment (Air and Noise).
Environmental Compliance Approval Amendment (Industrial Sewage Works).
Stratford also needed to keep specific regulations in mind as it was developing its project. These include:
Regulation 347 (Waste Management, Reg. 347) since this is the regulation that "imported organic wastes are regulated under," according to the Co-digestion Handbook that came out of the Getting to Net Zero Energy Wastewater Treatment workshop co-hosted by OCWA and OWC in February 2020.
Regulation 419 (Air Pollution—Local Air Quality) since waste processing equipment can create air and noise pollution, according to the Co-digestion Handbook.
All the environmental approvals that Stratford received were for its particular site. However, "the municipality's experience with approvals and permissions provides an excellent template for the process and requirements that other municipalities can expect in undertaking similar projects," notes the Co-digestion Handbook.
"Since co-digestion is new concept to the province, the regulatory process is learning curve for all," adds Maharjan. "Hence, we worked early on with MECP's Innovations Units and Approvals Branch and were successful in getting ECA approval for Stratford."
Financing municipal co-digestion projects
Along with regulatory requirements, financing is naturally another important consideration for municipal co-digestion projects.
In the case of Stratford, its project is expected to cost $22.5 million. As noted in the Co-digestion Handbook, the project has a few revenue sources including:
A $5-million investment through the Target GHG Fund. This fund was provided by the Ontario government through the Ontario Centres of Excellence (OCE); however, it no longer exists.
A $5-million matching contribution for OCE funding to be provided by Stratford, OCWA, and SUEZ Water Technologies & Solutions.
An ongoing revenue stream that will be available through an RNG sales through a contract with Fortis BC.
Project financing from a public financier.
In the case of Petawawa, it's "proceeding with the 30 per cent design engineering for a proposed co-digestion project with OCWA. Existing anaerobic digestors will be upgraded with Anaergia's sludge screw thickeners and high solids SMART mixers. Captured biogas will be used to generate electricity."
At this time, the project is expected to cost $7 million. So far, a $2.7-million grant has been approved for capital installation through the Government of Canada's Low Carbon Economy Fund (LCEF). According to the Co-digestion Handbook, "additional project financing is currently being explored."
Municipal co-digestion in the provincial landscape
Over the past few years, the Government of Ontario made a number of commitments related to organics management and reducing GHG emissions. For example, the Food and Organic Waste Framework notes that "keeping food and organic waste out of landfills can help us fight climate change by reducing greenhouse gas emissions" and that "keeping food and organic waste out of the disposal stream is a high priority for the province." Reducing GHG emissions is also a key part of the Ontario government's Made-in-Ontario plan. Municipalities can support the province's priorities by using co-digestion to divert organic waste from landfills and reduce emissions.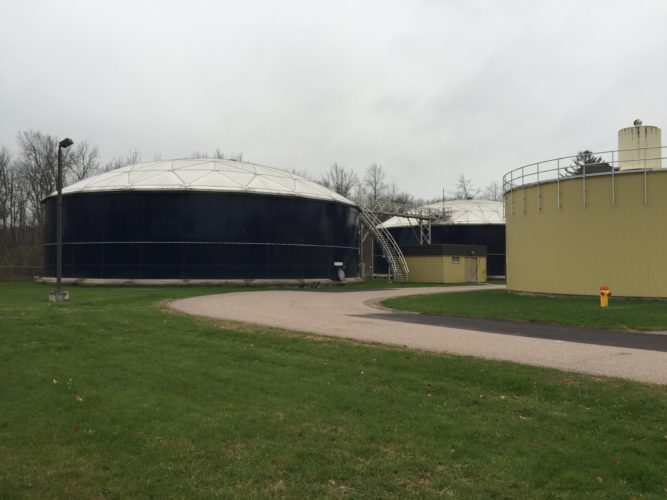 There are also technological considerations at the provincial scale. "The Province of Ontario has academic expertise and an emerging ecosystem of technology companies with strengths in technologies to optimize and enhance anaerobic digestor performance to maximize capacity and the production and recovery of valuable resources," notes the Co-digestion Handbook. "Technology solutions can be pre- or post-anaerobic digester and also within the anaerobic digester itself."
This is where organizations like OWC come in. "Successful commercialization of innovative water technologies requires not only matching solutions to problems but often an instigator who can connect the dots," notes Rahim Kanji, industry partnership manager at OWC. "Brokers like OWC link opportunities, stakeholders, and drivers and we play a key role in the water technology innovation ecosystem to accelerate technology commercialization 
in Ontario."
Going forward, municipal co-digestion is an approach that can help municipalities and the province achieve multiple goals and objectives.
This article was written by Simran Chattha, the associate editor of Water Canada, for the November/December 2020 issue of Water Canada.