Water engineer Diana Frost is passionate about improving the standard of living in developing countries by contributing her expertise with water systems. Through funding from the CH2M HILL Foundation, she recently travelled to Rwanda as a member of a seven-person volunteer team. The ongoing project, offered through Water For People's World Water Corps, is taking place in Rwanda's Rulindo district—one of two areas on which the organization currently places focus. Both Rulindo and Kicukiro districts have a high number of non-functional water sources or intermittent water supply. As a result, people often walk more than two kilometres to reach a water source.
On the mission, Frost and fellow volunteers suggested ways to design and construct the water systems, as well as provided suggestions on training techniques for management committees. As part of our Canada Water Week series, we spoke with Frost upon her return.
Water Canada: Welcome back from your two-week trip. How did it go?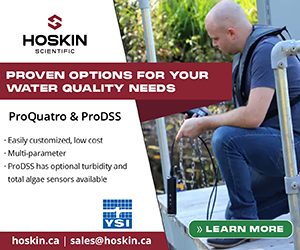 Diana Frost: Pretty well. We were tasked with optimizing some of Rulindo's existing water systems. It's a complicated process, but the technical side of things is the easy part. The harder part is the human side—we have to figure out who is going to maintain the system, and who's going to pay for it. Those are some of the more difficult issues that a lot of people don't discuss.
How did the team work on those issues?
Frost: Water For People is currently making the transition from a monitoring role to an enabling role. We knew part of our job was to build capacity, but we also had to produce a design report. That's something technical that usually takes a few months to prepare, not a couple of weeks! When you have a project with a deadline, you want to get things accomplished, but we still wanted to work on capacity.
How did you divide the responsibilities?
Frost: The first day we arrived, we took time to discuss our expectations. Capacity building—what does that mean? How do you know when you've accomplished it? What are the results? We also looked at Rulindo's existing water systems and tried to figure out if there was enough water to supply the rest of the communities that they wanted to serve. The team had some challenges because we weren't able to track down the details, and getting dependable information is necessary to do the work. I experienced that on a mission in Peru, too. Sometimes what was in the ground wasn't in the drawing.
My role was to study the water quality. It was smaller, less complex part of the project, so I was able to do some capacity building as well. I worked with an engineer to show him where to take samples, how to take samples, and what to test for. Even though it's a smaller role, it's very important, too—the results can affect how you design your system.
Did you have any challenges with the sampling process?
Frost: One big issue was community's power supply. One night, we had a four-hour power outage during tests for bacteria, which takes 24 hours at a specific temperature. If the power goes out, you can't trust the results. But we solved that issue temporarily. The next time, I brought the samples to my hotel room because it had a generator.
What did you learn about the water quality in Rulindo?
Frost: We got some dependable results, and it turns out the water was good. In that sense, it was pretty good news, but keep in mind that we were testing in the dry season. These are ideal conditions. In Rulindo, a high percentage of people are farmers, and there's lots of agricultural runoff potential that could contaminate the mountain springs. I was surprised to see that a lot of the catchments had farms above them. In the worst case, drainage from overflows during the rainy season could affect the water quality below the spring catchments. In fact, our samples contained low traces of nitrates and nitrites, which could indicate potential contamination from runoff. But we still had to make a recommendation to treat or not treat based on results found in the dry season.
Could those recommendations be skewed by rainy season results, then?
Frost: It's possible. Now if they continue to test—and I'm hoping that they will develop testing—that will help, and it's part of developing capacity.
Based on your results, what kind of treatment did you recommend?
Frost: In my report I said that they should explore chlorination based on the test results because turbidity was low. We found very few solids in the water, so we didn't think filtration would be required. But chlorination in itself is a whole other issue.
Why?
Frost: Most areas in Rwanda don't chlorinate, so it's difficult to find anyone with chlorination experience. You don't want to recommend a system that nobody knows how to operate or maintain. You want to recommend technologies that are at an appropriate level for the people who are operating the systems. If they don't understand, it's not going to help!
If most of Rwanda doesn't chlorinate, where would the community get the supplies for this treatment method?
Frost: Exactly. In rural areas, they use some chlorine to disinfect the storage tanks. They buy it in a pharmacy. Transportation is another issue—it's corrosive, for one thing. Transportation, supply, complexity of chlorination devices—all of these things were a little tricky.
You mentioned working with a local engineer on water sampling as part of the project. How did that mentorship work out?
Frost: Overall, the local team was hardworking and very determined to get training done. When you're learning, however, you make mistakes. Unfortunately, that meant we had to go back into the field a few times to take new samples. By the time I left, though, he was able to test samples and he knew what the numbers meant. I feel confident that he can handle it, even though he had some post-training jitters!
You've been on these sorts of missions before. What did you learn about Rwanda that you didn't know before the trip?
Frost: Rwanda surprised me. Given the history of genocide, I expected the country to be less organized. I was surprised driving through rural areas to see new roads, schools, and clinics—all built very recently. Lots of people had moved their households in accordance with government programming to be closer to these amenities, too. In Canada, we move on a whim because we can afford it. We have more resources, support systems than any individual in Rwanda. For them to pick up and rebuild a house is huge. That shows me how confident they are in their government, and that is unique.
As for the professionals, most speak three languages. They're willing and keen—it was so nice to work with people who are excited about their jobs.
Do you plan to go back to Rwanda?
Frost: I certainly hope to go back. I'm still corresponding with the team and offered support in setting up wider sampling programs, but going to Africa isn't cheap. If CH2M HILL wasn't supporting the project, I wouldn't have been able to go, so I'm thankful for the program.
Diana Frost works out of CH2M HILL's Calgary office. Learn more about Water For People here.