Urban roads and expansive highways propel our interconnected economy and mobile lifestyle, but a snowstorm can bring productivity crashing to a halt. Not to mention, icy roads and snowy banks increase the probability of accidents, threatening motorist and passenger safety.
Road salt plays a major role in countering these winter conditions. The most common de-icer, sodium chloride (common table salt), is effective up to around -10 degrees Celsius. Some road operators use salts such as calcium chloride, effective at lower temperatures and less harmful to the environment. Sodium chloride is the standard, however, representing over 96 per cent of road salt sold annually, according to Environment Canada. At about $50 per tonne, sodium chloride is one of the cheapest industrial chemicals available, and it's easily extracted from shallow salt beds.
Most wanted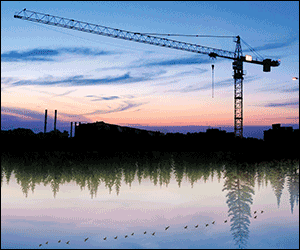 Despite its low cost and easy availability, salt is far from a panacea. Over five million tonnes of road salt are applied to Canadian roads each winter, and only a small portion is recovered, or otherwise neutralized with a product like gypsum. Road salt has a large hidden effect off-road, where it contaminates natural environments, corrodes city infrastructure, and damages property.
Water resources are hit especially hard. Road salt eventually seeps into drainage basins, where chloride ions pollute groundwater, lakes, streams and oceans. In terms of quantity, road salt is the number one contaminant of fresh water in Canada. One recent example: Frenchman's Bay, a freshwater lagoon in Pickering, Ontario, receives an estimated 3,600 tonnes of road salt annually. A University of Toronto study found the salt is killing sensitive aquatic species, like small fish and invertebrates lower on the food chain. Frenchman's Bay drains into Lake Ontario, the drainage basin and drinking water source for Toronto, Highway 401, and much of southern Ontario.
By improving transport productivity, clear roads carry an economic benefit. Snow- and ice-free roads decrease the fuel requirements of vehicles, reduce traffic jams and car accidents—but salt also brings increased infrastructure maintenance costs. The 2006 collapse of a Laval, Quebec overpass was due to hairline cracks that let road salt corrode steel rebar within the concrete. Exposure to road salt also reduces the value of personal vehicles, estimated by Environment Canada to be an average loss of $143 each year.
Although salt damage is largely concentrated in and around cities where it is most used, Environment Canada estimates that one-fifth of wells near Canada's heavily salted highways are contaminated. Most vegetation cannot tolerate brackish soil, and trees along Canadian highways die from salt poisoning at an average rate of 1.86 trees per kilometre every year.
In a 2001 assessment, Environment Canada found road salt to be toxic to aquatic ecosystems, vegetation, wildlife and soil. But because of road salt's de-icing role in transportation safety and efficiency, Environment Canada and various provincial bodies have exempted it from regulation. There are no laws governing the use of road salt, and no regulations governing its build-up in the environment or municipal watersheds.
Environmental groups think a more prescriptive approach is required. Kevin Mercer, founder of RiverSides, a Toronto-based water stewardship organization, is asking government to consider ending the longstanding blanket exemption. He asks: "Which would you like to have—drinkable water or clear roads?"
Connecting the dots
The failure to regulate the use of road salts is born out of safety concerns. Transport Canada recommends road authorities use salt, or an alternative de-icer, to increase winter road safety. Those concerns may have led other governments to avoid controlling the use of road salts.
But there is another underlying factor: price. Potassium acetate, a biodegradable and non-corrosive de-icer commonly used in airports, also works effectively at temperatures as low as -60 degrees Celsius. However, its high price makes it out of reach for wide use by road authorities, most of which are funded by cash-strapped municipalities.
EcoTraction, a salt alternative featured on CBC Television's Dragons' Den, is a popular product option often used on icy walkways. Co-founder Mark Watson says that if more attention was paid to the life-cycle impacts of road clearing practices, road operators would be more likely to consider products such as his—a volcanic mineral that provides better friction than sand, with less weight and less potential to clog stream beds or damage green spaces. Sand is used by most road operators for road traction, especially when temperatures drop below road salt's window of effect.
While Watson is hoping to see road operators use his product, he says that it's an uphill battle because managers and politicians face a voting public that "doesn't connect the dots." Watson argues that municipalities need an incentive to change; a change which includes ending the chemically dependent clean roads approach and requiring motorists use snow tires in winter conditions. "Every time there's a snowstorm, people scream—they're concerned about getting the snow off the road immediately."
Michael Stone, an expert in road salt management at the University of Waterloo, agrees that behavioural change is part of the solution: "Reducing the application of salt is often about better engineering and land use planning, but it's also a question of public perception and expectations." Police services regularly face drivers failing to respond to winter conditions. They implore motorists to avoid rushing, use safety equipment like winter tires or chains, or consider alternative modes of transport. Yet road conditions are often blamed when there is a collision.
Managing salt use
The federal government's current answer is a risk management approach to road salt. Road authorities using over 500 tonnes of road salt per year are required to have salt management plans that follow a federal Code of Practices centred on the Transport Association of Canada's (TAC) guidelines. The TAC best practices help roads managers mitigate salt damage without reducing service levels. Guidelines range from training and machinery calibration to improved road design.
According to Stone, the TAC best practices are effective and work well for the larger operators who have salt management plans. The City of Toronto alone decreased its annual salt use by almost a third, a total of 36,000 tonnes of salt. Stone says that the guidelines ought to be expanded from the 500 tonne-plus scope, to include smaller communities and private use—parking lots and private roads are responsible for about seven per cent of Canada's annual road salt usage.  WC
Brad Densmore is Water Canada's editorial intern.