When it comes to water, the food and beverage industry is facing some major challenges.
According to the Ontario Ministry of Agriculture and Food (OMAF), 70 per cent of the province's food and beverage companies rely on municipal water and wastewater infrastructure. Because of this, they will be hit hard once municipalities implement bylaws with stricter parameters for sewer use, driving up the cost of compliance.
However, wastewater challenges are not high on the list of priorities for small to medium-sized enterprises, says Kevin Jones, president and CEO of the Bloom Centre for Sustainability (BLOOM). "Their three key priorities are producing a high-quality product, food safety, and staying in business. When they're out of compliance, they want the problem to go away quickly and at a low cost so they can focus on their business."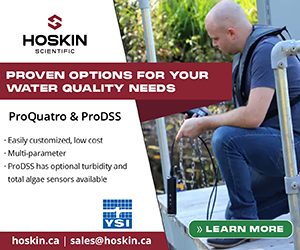 Food and beverage companies need to take a much longer-term view, he adds. "Water is vital to their operations. If they can take control, they can turn the issue into a competitive advantage."
The challenge is knowing what to do, BLOOM senior VP Michael Fagan says. "The costs of compliance vary, and people are confused about possible options; this isn't their core business. Reactive solutions driven by shorter time frames, particularly when they involve capital equipment, can become a barrier to long-term growth. Modularity and scaleability should be part of the design criteria for the food sector, particularly for the smaller processors."
Solution providers are often guilty of putting these companies in a tight corner, he adds. "They're reluctant to recommend new, unfamiliar solutions. Companies are therefore not getting much needed support, especially if they're trying to break free of the status quo. Risk and perception of risk is the fundamental barrier, but nobody wants to be the guinea pig; the real and perceived costs are too high."
Making room to grow
Growing need and more demanding wastewater surcharges are some of the biggest challenges for wineries in Ontario's Niagara Region. Wineries connected to municipal treatment systems, such as the family-run Cave Spring Cellars, run the risk of overwhelming treatment capacity under current production levels. This limits their ability to expand operations.
At Cave Spring, the average surcharge amounts to $4,000 per year, but the winery's owners were concerned more about the potential negative impact on the wine's quality. They decided to pursue a new treatment approach to better manage their wastewater.
Dave Hooper, the winery's cellar master, says the search for a solution proved costly and next to impossible. "We were banging our heads against the wall for years. We're not experts, and the nominal cost of even talking to an engineer was prohibitive," he says. Hooper came away with several recommendations and a vast range of costs, from $70,000 to $1.25 million.
That's when BLOOM stepped in. For the past few years, the company has been developing and delivering initiatives to increase the business acceptance and adoption of innovative water solutions with support from Agriculture and Agri-Food Canada, OMAF, and the Ministry of Rural Affairs (MRA), through the Growing Forward program.
A series of conversations with food processing companies led BLOOM, OMAF, and MRA to conduct pilots of a single innovative, on-site wastewater treatment technology across several operations that were representative of different food and beverage sub-sectors. EcoEthic, an Ontario-based firm that has the Canadian licensing rights to a wastewater treatment technology called BioGill, supplied the technology.
"The overall objective of the pilots is to show how an innovative solution can be applied across several sub-sectors and what changes are required to support broad adoption, particularly by the small to medium-sized processors," Fagan says. "The ideal outcome will be to increase the capacity of the Ontario food processing sector to adopt sustainable water solutions that improve productivity, profitability, and competitiveness."
The technology and installation
BioGills are bioreactors with "gills" (membranes) that allow micro-organisms to grow, flourish, and treat wastewater. "Wearability is not an issue—the equipment involves no moving parts," EcoEthic owner Rob Davis adds.
Because BioGill is installed above ground, the company could assemble the pilot equipment beside the winery's current treatment system, allowing it to draw clarified wastewater from the system's first tank, which is used to provide initial solids settling. Once treated, the pilot system effluent was returned to the existing wastewater system for disposal to drain.
The system produces a tiny amount of sludge, but Davis says the long-term idea is to keep the valuable nutrients from going down the sewer. He also says the future holds opportunity for effluent reuse.
Moving forward
BioGill is a single key component of a system, but processors like wineries and brewers are going to need a complete integrated solution, Fagan says. "We want to help reduce the risk and improve competitiveness, but that requires having a discussion that incorporates all parts of the issue, from technology through to impacted stakeholders."
Industry associations, such as the Wine Council of Ontario and the Grape Growers of Ontario, are playing a role here, he says. "They're motivated, interested, and trying to solve an emerging industry challenge. For them, business is front and centre. They're pragmatic and they understand the tradeoffs."  WC
—Kerry Freek, with files from BLOOM
—
In the Vineyard
"Protecting our water resources is important because grape growers rely upon them for their livelihood; natural resources are an important part of what they do," says Bill Schenck, a director of the Grape Growers of Ontario.
While the active association has always taken water efficiency seriously, the rise of environmentally conscious customers requires wineries and growers to become more competitive. For those customers, it comes down to communicating growers' efforts through official, measurable programs. While many regional programs exist, currently there is no global certification program—partly because conditions vary by region.
"The industry has a very good footprint as far as water use is concerned," Schenk says. While grape growing typically requires very little irrigation—some European wine regions don't even allow it—the industry pushes forward to provide quality product at even more efficient rates of water use.  WC