Plants are one of the largest consumptive water users on earth. Through transpiration, they move entire rivers of water into the atmosphere, yet, this part of the hydrologic cycle has historically been the difficult to quantify.
In an effort to better understand how water should be managed at regional scales, two researcher from the United States have modelled the flow of water that travels into the atmosphere through plant transpiration and groundwater sources.
"Quantifying evapotranspiration is not only critical to closing the current water budget, but also to predicting how hydrologic systems will respond to a changing climate," said Laura E. Condon, assistant professor of the Department of Civil and Environmental Engineering and Earth Sciences at Syracuse University.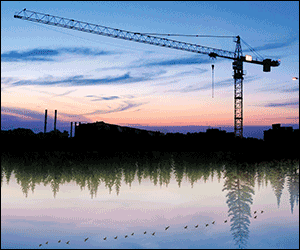 "Transpiration and evaporation have different physical controls; we need to be able to separate these two processes to better understand the sensitivity of large complex systems," she said.
While computer models have attempted to simulate this aspect of hydrology in the past,  studies that have compared those models to field data that used isotopes to quantify groundwater flows into the atmosphere have shown that these modelling sources were largely inaccurate.
In this new study, Dr. Reed M. Maxwell, director of the Integrated GroundWater Modeling Center at the Colorado School of Mines, Golden, CO and Dr. Condon have incorporated dynamic groundwater flow into an integrated hydrologic model simulation for the entire United States. They build a model to examine how these processes interact at very large scale and very fine resolution.
"Groundwater is very challenging since we can't see it," said Maxwell. "We have very limited windows into what soil and geology look like, but [groundwater] is one of our largest freshwater water stores."
"Understanding the physics behind evapotranspiration is critical for basic questions like 'how much freshwater do we have on Earth and how fast does it get replenished?'" he said.
In addition to building the model, the study results showed that the depth of the water table and characteristics of groundwater flow strongly affected the volumes and flow of water would move through transpiration, soil evaporation, or canopy evaporation.