Deborah Van Dyk has joined the Canadian Water Network (CWN) team as a program manager for their Wastewater-Based Surveillance (WBS) Program.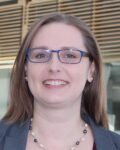 "CWN is thrilled to welcome Deborah to our dynamic team," says Katrina Hitchman, director of program development. "Her public health expertise will be invaluable as we engage local public health practitioners across the country through CWN's new WBS Program."
As a program manager for the WBS Program, Deborah is leading a 13-month demonstration project to support public health authorities in interpreting the meaning of WBS data for their communities and effectivelycommunicating these results to the public. CWN is undertaking this program in collaboration with the National Collaborating Centre for Infectious Diseases (NCCID). "Wastewater-based surveillance opens a new door of possibilities for public health practice," says Deborah. "I'm excited to join the CWN team and have a part in building connections between public health practitioners working in this emerging field as it continues to evolve."
Deborah brings 18 years of experience in public health to CWN. She has worked as a frontline public health nurse and research coordinator, then as a senior public health policy advisor for a national Indigenous organization. Professionally, her greatest passion is equipping public health providers with novel, innovative tools and strategies so they may work more effectively towards eliminating communicable diseases from their communities.