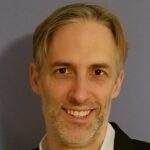 On behalf of the Board of Directors of Credit Valley Conservation (CVC), Chair Karen Ras announced that Quentin Hanchard has been appointed the conservation authority's new chief administrative officer and secretary/treasurer effective December 10, 2021. He will be replacing Deborah Martin-Downs who is retiring on December 31 after eight years with CVC.
"We are excited to welcome Quentin to his new role as Chief Administrative Officer," said Ras. "He brings a wealth of experience and knowledge to CVC. His proven ability to foster relationships with a wide variety of stakeholders will help continue CVC's legacy of engagement and ensure we can move rapidly to complete many of our upcoming projects and initiatives."
Through Hanchard's experience as associate director of development planning and permits at the Toronto and Region Conservation Authority (TRCA), he brings expertise in watershed management, planning, and administration to CVC. His 24-year career in the environmental community includes a strong focus on partnership building that balances environmental, economic, and social imperatives. He holds a master's degree in Environmental Studies (Planning) from York University.
CVC is a local conservation authority established by the Ontario government in 1954 to protect, restore and enhance the natural environment of the Credit River Watershed.