Clearford Water Systems Inc. has won the Ontario Onsite Wastewater Association's 2016 Corporate Innovation Award, at OOWA's 17th Annual Conference held in Kingston last week. The award was presented to Clearford in recognition of its innovative Pay for Performance (P4P) financing model.
"The Pay for Performance financing model is a welcomed innovation to the wastewater infrastructure community," said OOWA's president Rick Esselment, "By bringing a financing component to the Clearford One packaged solution, Clearford continues to lead in developing innovative decentralized communal wastewater collection & treatment systems in Ontario," he said.
"We are very pleased to receive this recognition from OOWA," said Clearford CEO Kevin Loiselle. "OOWA is a dynamic forward looking association that has played an important role in supporting new technologies and practices for Ontario's wastewater companies, and we look forward working with them in the future."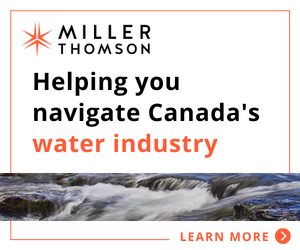 The Clearford One P4P is a design-build-finance-maintain-transfer (DBFMT) funding model uniquely available to Ontario municipalities. The company developed the financing model in response to challenges in identifying early adopters of its innovative wastewater treatment systems.
"People are reluctant to be one of the first ones out with new treatment technologies. They are worried about whether their new wastewater systems will still be running in 20, 30, and 40 years" said Loiselle. "So we developed the P4P financing model with a a Swiss facility, Signina Capital AG.  Essentially, if the municipality is willing to guarantee that they will pay the monthly fee per [household] door, over 30 years, we will provide all the capital to put in the system, and take the responsibility to run it. So all of the risk is removed. At the end of the 30 years, we will hand over that system free of charge. Given the materials that we use, that system is expected to have a lifespan in the neighbourhood of 90 years."
The P4P system works as a fixed monthly payment, per connection, that is subject only to inflation and flow adjustment that makes it possible to build and operate sanitation infrastructure in Ontario with total assumption of risk by the private sector. The new approach enables municipalities of any size (in Ontario) to establish modern sewage collection and treatment infrastructure without incurring capital costs, or taking on construction and operating risk.
The company has used its first Ontario installation, in a mobile home park just outside of Kemptville, Ontario, as a demonstration site; and is in further conversations with two other municipalities.
Loiselle said that getting the pricing right can be challenging for municipalities, since customers have traditionally under-paying for wastewater and sewer services; but that the fees reflect substantially lower total costs compared to traditional sanitation infrastructure under direct municipal ownership.