The City of Vernon announced that one of its operators at the Vernon Water Reclamation Centre (VWRC) received province-wide recognition for his dedication in the field of water and wastewater treatment.
Kevin Holman was recently named the Operator of the Year for British Columbia and the Yukon by the Environmental Operators' Certification Program (EOCP).
"On behalf of the City, I would like to congratulate Mr. Holman for this wonderful recognition," said Mayor Victor Cumming. "The City takes great pride in having the right people in the right places to serve our community, and in making this a place where excellent people choose to live and work. We're honoured to have Mr. Holman as part of the City of Vernon team and are pleased to see his efforts recognized on such a great scale."
The Operator of the Year award goes to an individual who goes above and beyond in their work, volunteers to help co-workers, makes presentations, serves on committees, and provides exemplary service over an extended period of time. Recipients are nominated by their peers, co-workers, and colleagues.
"Kevin consistently brings a positive attitude and a 'whatever it takes' work ethic to the plant," said Serge Kozin, manager of water reclamation services. "It has been a pleasure to work alongside him for the last 20 years. I would like to thank him for his dedication to the City and his profession."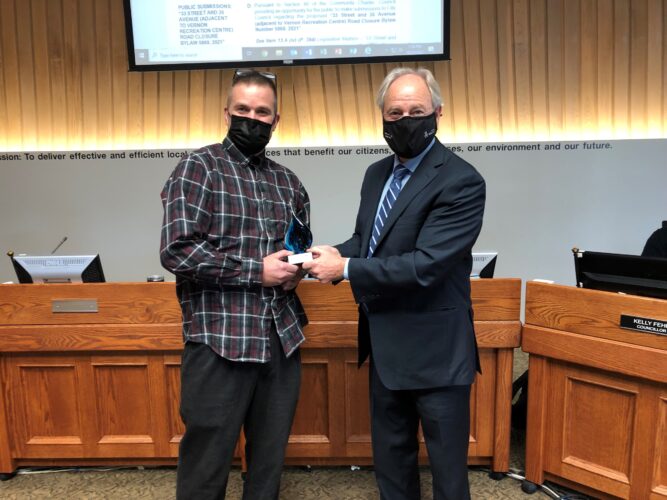 The EOCP strives to protect human health, the environment, and the investment in facilities through increased knowledge, skill, and proficiency in all matters relating to water treatment and distribution and wastewater collection, treatment, and disposal.
The EOCP evolved in British Columbia from a handful of wastewater treatment plant operators who began the Program in 1966. Since then, the Program has grown to include more than 3,500 British Columbia and Yukon operators.