On December 14th, 2018, new councils from Brockton and Hanover, Ontario, were the first to receive standard of care training related to the Safe Drinking Water Act at the Walkerton Clean Water Centre.
The course covers the legal, technical, and moral obligations of municipal politicians and staff to protect their water systems and keep their citizens safe.
All elected officials are strongly encouraged, although not required, to take the three-hour training, said Carl Kuhnke, manager of the Walkerton facility. About half of Ontario's 444 municipalities participate in the training, he said.
Brockton and Hanover's new councils were among the first to sign up following October elections. The course is designed to inform municipal officials of their oversight responsibilities under Section 19 of the Safe Drinking Water Act.
The course includes case studies in water contamination from Walkerton, Stratford, North Battleford, Saskatchewan, and Flint, Michigan. While the Walkerton e. coli crisis of May, 2000, is perhaps the most renowned, it is by no means an isolated example, Kuhnke said. In the North Battleford case, about 6,000 people fell ill. In Flint, where lead leached from pipes into drinking water, officials were jailed.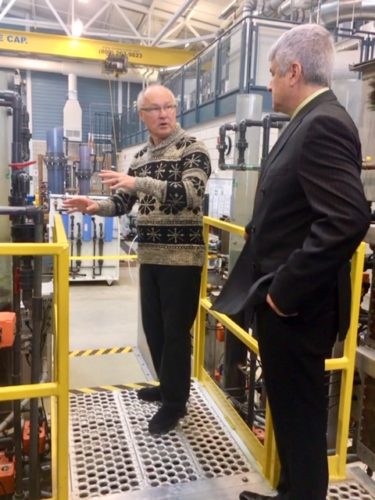 What's key, Kuhnke said, is learning from past mistakes, ensuring proper training and developing a culture of prevention. The course "is not meant to shock and scare, but to ensure municipals officials are aware of their responsibilities."

The Walkerton Clean Water Centre has trained more than 80,000 people in clean water management since it opened in 2004. It offers pilot testing of municipal water and mandatory operator courses across the province, including northern and remote communities.

Brockton Mayor Chris Peabody toured the centre during the training. "Our duty is to be vigilant, to ensure that our operators and managers will do what they need to ensure safe drinking water," he said.
The three-hour course provides basic information about drinking water systems, the multi-barrier approach to drinking water treatment and some of the risks associated with drinking water treatment and distribution. Participants will also learn about additional specialized training that is available.

The centre hosts a research facility with a full-sized laboratory and a wide array of water treatment technologies available for operators and students. Sixteen Ontario colleges with water and environmental science programs have access to the centre for hands-on experience and real-world training.
For more information, or to register, visit wcwc.ca/registration or contact the Walkerton Clean Water Centre at 866-515-0550 or [email protected].