Saltworks Technologies has announced the opening of their China headquarters at the International Water Hub (IWH), in Nanjing China.
Saltworks' innovative products were initially supported by the National Research Council of Canada Industrial Research Assistance Program (NRC IRAP), and the company took much pride in participating in a signing ceremony as part of a recent commercial mission to China supported by NRC IRAP and Global Affairs Canada.
"We are thrilled to become part of the Nanjing Water Hub, which will surely become the innovation center for industrial water treatment in the world," said Ben Sparrow, CEO of Saltworks Technologies.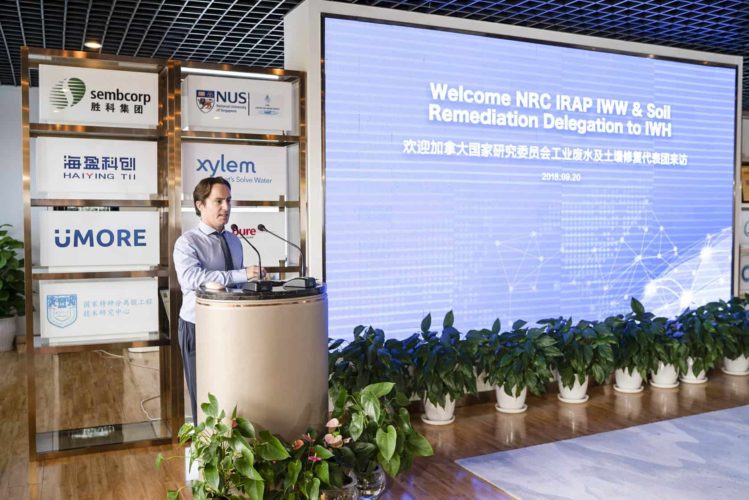 The International Water Hub (IWH) is located on the Singapore Nanjing Eco Hi-tech Island, which is jointly promoted by the CPC Jiangsu Provincial Committee, Jiangsu Provincial Government and Ministry of Trade and Industry, Singapore. The SNEI project is a cooperation effort between the Singapore government and Nanjing Municipal Government.
IWH is developed by Sembcorp Industries and will be the first commercial building for water-related industries on the island. IWH is committed to creating an ecosystem for the international water industry players in sharing and promoting R&D, technology and innovation, and is set to become the hub for providing water solutions to global communities.
Saltworks' Flex EDR Selective membrane technology, a proprietary advanced material, solves a critical challenge in China and other markets such as coal-fired power plants and flue gas desulfurization wastewater treatment. Scrubbers have been installed in coal fired power plants worldwide to remove air pollution, however these industries now face a water pollution challenge. Saltworks' solution selectively removes chlorides, enabling this water to be recycled and reused. It's a market that has no widely-accepted solution, due to the very high cost of chemical softening, which Saltworks avoids.
"One of China's top three priorities is environmental protection. With the Chinese regulations moving at five times the velocity of the West, solutions this market implements today will be spread around the world tomorrow," said Sparrow.
The was pleased to report receiving a tremendously warm reception in China, including from a selection of the big five coal fire power companies and premier engineering firms. Saltworks is preparing to bring a pilot plant to China in the new year and to establish headquarters in Nanjing at the International Water Hub.