The Alberta Biodiversity Monitoring Institute (ABMI) has released a report examining the human footprint in the province, providing insights to human activity within watersheds and the changes to the province from human-made waterbodies, among other activities.
The report, The Status of Human Footprint in Alberta, details the threats to biodiversity as a result of land transformation from human activity. "To evaluate how land-use decisions affect both environmental sustainability and economic growth, it's critical to have good data on which activities are transforming the landscape, as well as where and to what degree these activities are occurring," said the Institute in a statement.
The report breaks its human footprint examination into six categories: agriculture; forestry; human-created waterbodies; mines, wells, and other energy activities; transportation; and urban, rural, and industrial. As described in the report, human-created waterbodies are "man-made waterbodies created for a variety of purposes, such as to extract fill (borrow-pits, water treatment), water livestock (dugouts), transport water (canals), meet municipal needs (water supply and sewage), and store water (reservoirs)."
Overall, agricultural activities account for the largest portion of the human footprint in the province (20.2 per cent), while human-created waterbodies account for the smallest portion (0.3 per cent). The total human footprint that the institute found accounts for 29.2 per cent of the province. "Furthermore, human footprint was dynamic: between 1999 and 2015, it increased by 3.5 per cent of Alberta's land base—an area 3.5 times the size of Banff National Park, a change largely driven by the creation of new forestry footprint."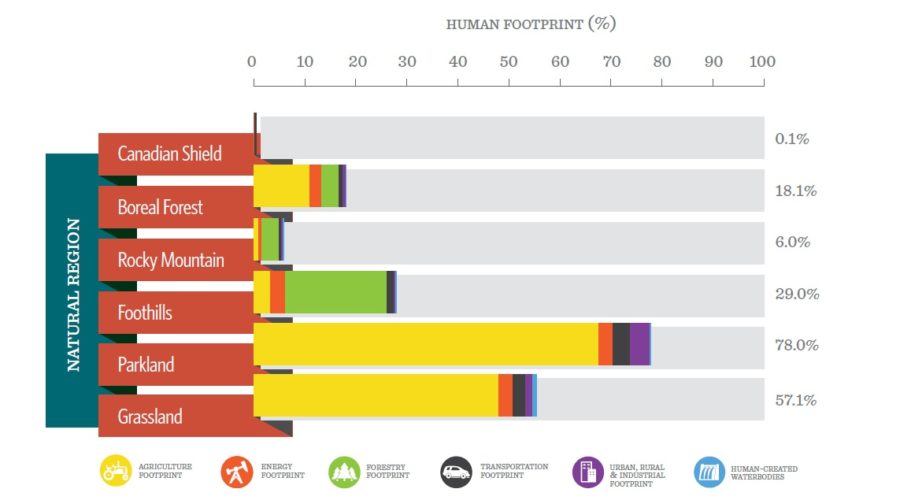 Though, the human-created water bodies comprise the smallest portion of the footprint, the overall impact of human footprint within watersheds is a concern, both for diversity and as it threatens water quality. "A high-priority management issue in the [Southern East Slopes] is watershed protection," stated the report. "Because human land uses in terrestrial areas surrounding water sources can impact water quality, it is important to manage the changing human footprint across the SES to ensure a safe, secure supply of water for downstream users in southern Alberta and beyond."
The full report can be found on ABMI's website.