It's difficult to overstate the importance of wetlands. They provide habitat for wildlife, filtration for water and play a role in protecting us from drought.
Now a group of Canadian researchers led by the University of Toronto's Irena Creed will study them to better understand their exact role in combating climate change.
"There's an assumption that nature is storing carbon to a certain degree, but we need stronger evidence to truly know how effective wetlands are as a nature-based climate solution," says Creed, professor in U of T Scarborough's department of physical and environmental sciences and its vice-principal of research and innovation.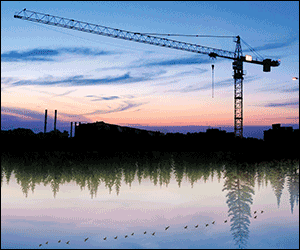 "This project is going to move the needle forward in a very big way in terms of our scientific understanding of wetlands, their function and the services they provide."
Wetlands offer essential ecological services for wildlife, humans and climate. They protect and improve water quality, provide habitats for fish and wildlife, store floodwaters and maintain surface water during dry periods. They store large amounts of carbon, which is a benefit to fighting climate change, but also emit large quantities of methane, an especially potent greenhouse gas.
Creed says wetlands are among the most threatened ecosystems on the planet, despite efforts to slow their rate of loss. Governments around the world have spent considerable money and resources rightfully trying to restore and rehabilitate them. At the same time, wetlands are being used as nature-based climate solutions without truly understanding the scale of their impact. What's lacking is data showing at what point this strategy is good for addressing climate change.
"We can't just restore wetlands and assume it's just going to function as a way to mitigate greenhouse gases," says Creed, a renowned ecosystem scientist whose research focuses on climate change, hydrology and watershed sciences.
"We need to fully understand the science behind it to know what the tipping point is for storing carbon dioxide versus releasing more potent greenhouse gases into the atmosphere such as methane."
The project is being funded in part by the Government of Canada Climate Action and Awareness Fund. The fund is an investment of up to $206-million over five years to support Canadian-made projects that help reduce Canada's greenhouse gas emissions.
The partnership will include researchers from six universities from across Canada and seven non-academic organizations, led by Ducks Unlimited Canada, that represent government and conservation agencies. Creed's project will receive $6 million from the fund, while an additional $4 million dollars will be invested in the project by various non-academic partners.
"The benefits of conserving wetlands for wildlife and recreation have long been established, but this research will examine the use of wetlands as a climate mitigation tool," says Pascal Badiou, research scientist for Ducks Unlimited Canada.
"It's exciting to be part of this unique partnership that's combining the expertise of academics, government and on-the-ground conservation organizations in a national effort."
As part of the project, multiple flux towers – which have sensors positioned above the vegetation to record the flow of chemicals between the ground and the atmosphere – will be used in freshwater wetlands across Canada. Resembling small radio towers, the structures will help measure how much carbon, methane and other greenhouse gas emissions are both stored and released by the wetlands.
Creed says the data collected will help inform policymakers how well Canada is doing with its climate change goals, particularly those under the Paris Agreement. It will also help in creating more accurate greenhouse gas inventory reporting, which is a requirement under the agreement.
"Frankly, we're running out of time to be able to act on climate change and we need to be smart about what we do and the types of climate solutions we invest in," says Creed.
"I'm proud of this partnership because we are developing a national network that will provide the evidence Canadians need to help inform climate policy."